Daisy Ridley Just Got Real About the "Secret" Behind Her No-Makeup Selfies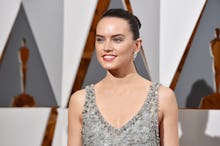 Just a little soap and water is all it takes to get clear skin. Right, Kendall Jenner? While this technique might *magically* work for some, others have to resort to not-so-pretty but oh-so-relatable skincare routines. Just ask Star Wars actress Daisy Ridley.   
The 24-year-old posted a photo on Monday to celebrate reaching 2 million followers on Instagram. She used a red-carpet photo snapped at Vanity Fair's 2016 Oscar Party.
"I'm currently sat writing an essay covered in spot cream drinking mint tea," she captioned the photo, "but no one wants to see that so instead here's me looking all fancy pants..."
Realizing shortly after posting that yes, fans do want to see that, she then shared an IRL photo anyway, captioning the pic "ACTUALLY why not!" with hashtags #istillputafilteronit and #spotcreamwin. 
Because fuck it, she's only human after all.
Celebs' makeup-free selfies (like this one and this one) often look flawless. It's not every day that an actress or model shows the "ugly" side of maintaining silky-smooth skin — and fans have taken to Ridley's honesty. 
"So glad you posted this! You are amazing. Keep being REAL!" one user commented. "Such a great example and role model to young girls everywhere. Bravo Daisy," said another.
Ridley's used Instagram to reveal the truth behind social media selfies in the past, as well. Just last month, she posted a photo captioned "I woke up like this #nofilter #nomakeup." 
In actuality, Ridley both filtered the photo and is wearing makeup.She explained in the caption that while social media is great, it's also a platform for people to create inauthentic versions of themselves (just ask Khloé Kardashian). 
"What people post is the most filtered, most carefully chosen and cleverly edited moments of their lives," she said. 
Read more: Daisy Ridley Has a Powerful Message About Self-Esteem and Social Media
In addition to posting makeup-free selfies (real or fake), Ridley has a history of using social media to address body shamers. In March, she responded to a meme that said she was "too thin" to be cast in the Star Wars films. 
"I'm a normal girl thrust into extraordinary circumstances, just like Rey," Ridley wrote. "I will not apologize for how I look, what I say and how I live my life 'cause what's happening inside is much more important anyway and I am striving to be the best version of myself, even if I stumble along the way."
Don't appreciate Ridley's candidness? Bye.