Are Kylie Jenner's Lip Kits a Toxic Money Pit? This Receipt Indicates Yes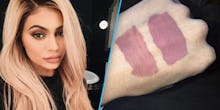 Beauty vlogger Stephanie Nicole has some strong words for Kylie Cosmetics after doing some creative digging into the products and their production: "This new formula is bullshit and frankly I'm disgusted by the ethics of this company." 
Nicole found that Kylie Jenner's Lip Kits contain almost the exact same ingredients as indie brand ColourPop's lip stains. 
In the above photo, the highlighted ingredients are the ones that are used in both formulas. This wouldn't be as a big deal if ColourPop's products weren't significantly lower in price.
How much of a discrepancy? Nicole crunched the numbers. According to her math, including shipping, it would cost you $16.82 for ColourPop's lip kit while Kylie's version comes in at $40.13.
That's an extra $20-plus for a way-too-similar product. (Sorry Kylie, $8.95 for shipping is not OK.) 
Since December, fans have speculated that the Lip Kits were ColourPop's lip stains repackaged by Kylie Cosmetics. So, are they? That much is not entirely clear. 
Kylie Cosmetics' products are manufactured at Spatz Labs, owned by ColourPop Cosmetics' founders Laura and John Nelson. The Nelsons are also the founders of Seed Beauty which, according to its website, works with both Kylie Cosmetics and ColourPop. What a tangled web that is.
Back when the speculations started, in order to squash the rumors, Jenner posted a photo with the owners, writing, "We don't have the same formula or exact colors." 
However, that was the first Lip Kit formula, before the 18-year-old reformulated the kits to be "less dry and thick" in April. So, while the other formula wasn't "the same" as ColourPop, as Nicole pointed out, the new formula, is in fact, almost identical.
This isn't the only issue with Jenner's new formula. Nicole compared the original Lip Kits to the new version and found the shades aren't, in fact, the same. Here's the old Candy K compared to the new Candy K: 
She also noted that the updated formula was significantly more watery and less "moussey" than the original.
This is not the first time that Kylie Cosmetics has come under fire for its products. Just last month, beauty vlogger Jeffree Starr tweeted disappointment with the brand's lip gloss wands. 
This then caused other customers to post similar photos of their messed up brushes and led Jenner to explain that she was in the process of fixing the product. The brand sent the updated glosses, with better brushes, to the customers that had purchased the original version. 
As Fashionista pointed out in January, many brands use the same company or production facility. So Jenner using the same branding and development company as ColourPop isn't unusual. But, why do Jenner's products cost so much more than ColourPop's almost identical lip stains do? 
Maybe her Lip Kits don't have to cost $29, and she (or those in control of Kylie Cosmetics) decided to scam her fans out of money. 
If you don't mind having the product sans Jenner's name, save some cash and purchase the dupe from ColourPop. With constant sellouts, it's not like you'd be able to get the Lip Kit shade you wanted anyway.