Donald Trump Is Still Pushing Anti-Immigrant Trash With a Xenophobic Group's Faulty Study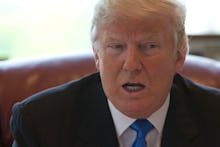 It's no secret that Donald Trump — despite his expressed love for Latinos on Cinco de Mayo — doesn't intend to make America immigrant-friendly again if elected president.
He is using faulty immigration studies engineered by purported racists to support his views on immigrants. Trump fans didn't seem to mind Tuesday, after the billionaire real estate mogul posted about "immigrants on welfare" on his Facebook page.
The post, which links to an article published by the right-leaning Washington Examiner, drew scores of unmistakably anti-immigrant comments, some of which were liked thousands of times. 
The Center for Immigration Studies, a reputed anti-immigration think tank founded by a racist doctor, produced the study cited in the article Trump shared.
The Southern Poverty Law Center, an Alabama-based anti-hate group watchdog, has listed CIS as a nativist group that disseminates faux academic research papers and other materials targeting nonwhite immigrants.
John Tanton, a retired doctor in Michigan, reportedly founded and funded the racist publishing company that runs CIS, according to a 2009 report by the SPLC. In his writing, Tanton has said that a European-American majority in the U.S. is needed to maintain American culture.
The CIS study cited in the article Trump posted states that all immigrant households have received 41% more in average annual federal welfare benefits than U.S. households with U.S.-born occupants. The group put out a similar study in September, which was debunked by other immigration studies organizations for lacking an "apples to apples" comparison with its analysis of federal public assistance costs.
The Trump campaign did not immediately respond to a request for comment Wednesday.
Trump's tacit endorsement of the study and CIS is not even the first time he's shared debunked data from purported racists. In November, Trump found himself in hot water for retweeting a graphic with false statistics about the black-on-white and black-on-black murder rates. The graphic had been shared widely by people who expressed racist viewpoints, according to several media reports.
It's unclear if Trump is going to disavow his campaign from CIS or the racists behind the organization.
Trump said he was going to unite the Republican establishment around his presidential campaign and dial back some of the troubling rhetoric that caused conservatives to distance themselves from his campaign. But his Facebook post actually doubles down on previous remarks criticized by Democrats and Republicans as anti-immigrant, xenophobic and even racist.
If history is any indicator, he is likely to be as silent about the Facebook post as he was when media organizations came asking if he'd disavow endorsements from white supremacists. His campaign also recently selected a white nationalist as a convention delegate, later calling it a "database error."