SpaceX Just Released New Footage of Its Most Spectacular Rocket Landing Yet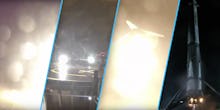 Elon Musk's SpaceX pulled off its third and most impressive rocket landing yet on May 6, and now the company has released a new video of the touchdown from three different camera angles. It's pretty damn awesome.
Here's angle one:
Angle two:
 And angle three:
The landing happened shortly after the Falcon 9 rocket delivered a communication satellite into orbit about 22,236 miles above Earth. Once it delivered the satellite, the first stage of the rocket turned around, flew back to Earth, and landed on a drone ship in the Atlantic Ocean.
Even SpaceX didn't think it would nail this landing, because the rocket was traveling much higher and faster than previous landings. 
The rocket is now back in storage where engineers will inspect it and make sure it's ready to fly again.
SpaceX will try to re-fly the rockets it has recovered as part of its plan to reduce the cost of space flight. The second launch of one of its recovered rockets could happen as soon as this summer, Musk has said.