Why Is Justin Bieber No Longer Taking Photos With Fans? Here's Why the Biebs Is Fed Up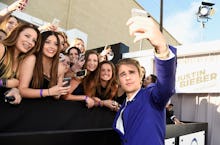 Sorry Beliebers, Justin Bieber is officially done taking photos with his fans. In an Instagram post uploaded on Tuesday night, the singer announced that he was fed up with what he said was the dehumanizing (and no doubt unyielding) requests for photos with fans.
"It has gotten to the point that people won't even recognize me as a human, I feel like a zoo animal, and I wanna be able to keep my sanity," the Biebs wrote. "I don't owe anybody a picture. And people who say, 'But I bought ur album' know that you got my album and you got what you paid for AN ALBUM! It doesn't say in fine print whenever you see me you also get a photo."
Bieber isn't the first celeb to swear off selfies with fans. Earlier this month, comedian Amy Schumer similarly announced that she was through with taking pictures with strangers after a fan confronted her on the street and forced her to take a picture, apparently saying, "It's America and we paid for you."
Schumer and Bieber's campaigns against the onslaught of selfie-demanding fans reveals something kind of interesting about celeb culture: Celebs may make themselves seem totally accessible on social media by tweeting and Instagramming their every move, but that doesn't mean they're not still entitled to a little respect when they're out in public.