Susan Rice Gives Florida International Graduates Perfect Advice for Dealing With Racists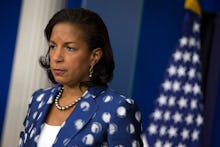 National security adviser Susan Rice knows something about being attacked while on the job, especially as a black woman in a field dominated by white men.
On Wednesday, Rice had great advice for dealing with racists and diversity haters for the 2016 graduates of Florida International University in Miami, where she was the commencement speaker.
Here's an excerpt from her speech:
"Now, there are voices out there that disparage our diversity—that question whether America should welcome people of all races, religions, and creeds.  Those voices can be loud.  They can be intimidating.  They can make us feel like we don't belong.  But, you know what?  Let fear be their problem, not yours.  Shake it off.  Ignore the haters.  And, don't you dare let them slow you down."
Rice is speaking from experience. As one of the Obama administration's senior diplomats, Rice was tasked with helping the White House explain the 2012 attacks on an U.S. embassy in Benghazi, Libya. Conservative leaders and pundits in Washington drug her name through the mud for what they deemed "an unsatisfactory explanation of the attack" that left an American ambassador and a staff member dead.
The criticism turned ugly. Rice's haters led a campaign against her nomination for secretary of state. But instead of stooping to her naysayers' level, Rice, who was serving as U.N. ambassador at the time, graciously bowed out of consideration. In 2013, President Obama tapped her to be his national security adviser.
Diversity is still a big worry for Rice, particularly in the U.S. diplomatic corps.
She told FIU graduates that racial minorities make up less than one-fifth of senior U.S. diplomats, even though people of color are 40% of the nation's population. They are also less than 15% of the nation's top military and intelligence leaders, Rice said.
"Too often, our national security workforce has been what former Florida Senator Bob Graham called 'white, male, and Yale,'" Rice said in her speech. "In the halls of power, in the faces of our national security leaders, America is still not fully reflected."
It matters because "a diverse national security workforce enables us to unlock all our nation's talent," she continued. "As America become more diverse, so do our best people."
Watch the full speech below: