People Magazine's #ShareYourSize Body Positive Campaign Turns Into a Twitter Disaster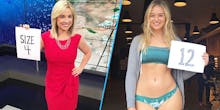 What was supposed to be a movement celebrating women's bodies inadvertently became a gateway for some clever penis jokes and an assortment of confused Twitter users. 
People magazine's #ShareYourSize campaign, launched April 27, was created to show that size is just a number. It asked influencers in the body positive movement and beyond to write their size on a piece of paper and "strike a pose" as a proclamation of body positivity.
Read more: Aerie's Male Body-Positive Campaign Was Cruel April Fools' "Parody"
Plus-size model Iskra Lawrence, who has been outspoken on body image issues and trolls, helped launch the campaign along with news anchor Kellie Patterson, model Rosie Mercado and Lifetime's Big Women: Big Love star Mar Ortiz, among others. 
The well-intended campaign was quickly taken to task by many on Twitter. Why? Simple really: Because it asked women to show that they're more than just a number by HOLDING A NUMBER NEXT TO THEIR FACES.
Many on Twitter were quick to call out the backwards thinking:
Some shared their shoe size instead.
Some called out the sexism of the campaign.
Others made dick jokes.
As seen with campaigns like Refinery29's "Take Back The Beach," BuzzFeed's "Body Positivity Week" and the Huffington Post's #HijabToMe, publications can and have launched successful movements celebrating woman's bodies and the clothing they outfit them in. But this campaign's lack of specificity ultimately led to more confusion and outrage than actual community building.
Bottom line: When there's a chance to make a penis joke, people will definitely do so.