South Carolina Barber "Does Not Cut Black Hair," Pulls Gun on Customer Who Asks Why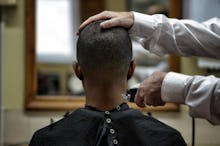 Larry Thomas wants you to know that he does not cut black hair. If he has to repeat that, you might be staring at the business end of his pistol.
That is precisely what happened recently in South Carolina, where authorities in York County arrested Thomas on charges related to his pulling a gun on a man and telling him he "does not cut black hair." 
The York County Sheriff's Office has not confirmed the race of the victim. But the 65-year-old Thomas allegedly took umbrage when the victim questioned him about his "whites only" policy. He then allegedly grabbed a pistol and held it at the victim's side in a threatening manner, according to an incident report obtained by the Associated Press.
Sheriff's offices spokesman Trent Faris confirmed in a statement to AP that Thomas' behavior is just the latest in a series of eight similar incidents dating back to 2007. Thomas, who is (obviously) white, got into trouble in the past for pepper-spraying a customer in an argument.
With this latest infraction, there are at least nine reasons why an African-American in York County should not ask Thomas for a haircut. 
Meanwhile, Thomas remained in jail Wednesday on charges of pointing and presenting firearms at a person. He was being held on $3,000 bond.