"Racist McShootFace" Bids $65 Million for George Zimmerman's Gun and It's Trolltastic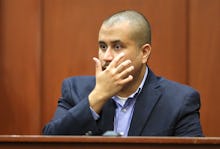 This is what you might call peak trolling. Before the gun that George Zimmerman used to kill Trayvon Martin was pulled from an online auction for a second time Friday, one bidder made the best offer. 
Under the screen name "Racist McShootFace," an online user submitted a bid of $65 million for Zimmerman's gun. The website, United Gun Group, later showed that that user's account had been deleted, according to several media reports. Bidding for the firearm ended Friday morning.
Zimmerman, 32, who identifies as Hispanic, claimed self-defense after his arrest for the murder of Martin, an unarmed African-American 17-year-old, in Sanford, Florida, in 2012. At the time, Martin had been staying with his father in a gated community, where prosecutors said Zimmerman racially profiled and followed the teen before the shooting.
Zimmerman was acquitted of second-degree murder a year later and avoided federal civil-rights charges, sparking what became the national Black Lives Matter protest movement and straining race relations.
After the auction site pulled Zimmerman's gun, stating that his listing didn't jive with their mission to "provide a safe and secure platform for firearms enthusiasts and law-abiding citizens," United Gun Group seemed to change its mind and briefly allowed bidding to resume. Bidding for the 9 mm Kel-Tec PF-9 pistol started at $5,000 and reached more than $65 million by 5.45 a.m. Thursday night, although that bid appeared to be the work of internet trolls. As of Friday morning, a hyperlink to the listing shows the auction was inactive.
GunBroker.com, another company that had listed Zimmerman's gun on Thursday, pulled the item from its site after a national outcry that included condemnation from Martin's family. "We want no part in the listing on our website or in any of the publicity it is receiving," it said in a statement, reported by USA TODAY.
The GunBroker.com listing, reportedly authored by Zimmerman on Wednesday, described the gun as "the firearm that was used to defend my life and end the brutal attack from Trayvon Martin," according to the Associated Press.
But it looked Friday as though neither Zimmerman nor the intended benefactors of the auction will see any of the proceeds.
Zimmerman said he would've donated some of the money to defend police officers from attacks by Black Lives Matter activists, targeting Democratic presidential candidate Hillary Clinton over her anti-gun rhetoric and campaign against the Florida state prosecutors who filed the charges in Martin's case, according to the Associated Press.
The real question: Who's going to start an online auction tom pay Zimerman enough money to disappear from public life forever?