Chrissy Teigen's Hairstylist David Lopez Shares the One Tip You Need to Master Beach Waves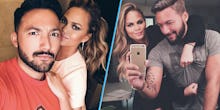 You don't need to ogle her locks from a distance anymore: This is the secret to perfecting Chrissy Teigen's signature hairstyle for yourself — without a pricy trip to a stylist. 
Mic got the inside scoop from David Lopez, Chrissy's hairstylist, on what gives Teigen's hair those voluminous beach waves — and it all boils down to one product: Kenra Professional Platinum Dry Texture Spray 6. 
Read more: Breastfeeding Chrissy Teigen Tried Tanning and, Welp, It Didn't Go Too Well
Follow Lopez's demonstration below to learn how to use the spray to get a luscious head of hair worthy of the A-List. 
Step 1: After blowing out your hair, use an inch and a quarter barrel curling iron to wrap your hair around the top of the wand, twirling it toward your face. 
Step 2: Slowly twist out curls to elongate the wave. Straighten the ends. 
Step 3: After curling your entire head, take a large comb and brush out the waves. 
Step 4: Use a 1-inch iron for a little added volume. 
Step 5: Go over the ends quickly with a flat iron to get a casual, beachy look.
Step 6: Apply the dry texture spray for hold. 
Voilà! The result is Chrissy Teigen-like waves. 
Check out the full tutorial, shot at the Kinloch Salon in Brooklyn, via Facebook Live, below: 
(Note: To get Teigen's exact look, you may want to add tape-in extensions that match your root color.)