On Trans Bathrooms, Texas Gov. Greg Abbott Says Obama Is Rewriting Civil Rights Act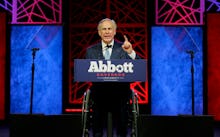 Texas Gov. Greg Abbott was among the first top U.S. state leaders to come out Friday against the Obama administration's bold move in the national transgender bathroom debate.
On Thursday, news broke that the Obama administration would issue a letter to state-level education officials across the country. The letter threatens to pull funding and seek legal action against schools that ban transgender students from using the bathrooms and locker room facilities of their choice. 
But Abbott said in a tweet that he saw the commander-in-chief's letter as a regal decree, rather than a stately directive.
Abbott has vowed to help North Carolina defend House Bill 2, which mandates that transgender individuals use facilities corresponding with the gender they were assigned at birth.
The Republican leader also hinted that a measure similar to North Carolina's could be coming to the Lone Star State, which would undoubtedly put Texas in the Justice Department's crosshairs, the Associated Press reported. The Justice Department filed a lawsuit against North Carolina over HB2 Tuesday. The suit came hours after Gov. Pat McCrory sued the Justice Department to block it from pulling state funding over civil rights law violations.
During the Texas GOP convention in Dallas Thursday, Abbott promised to lock horns with the Obama administration:
"I am working with the governor of North Carolina, and we are going to fight back."
Transgender Texans have several months to mount a defense against anti-LGBT measures should Abbott make good on his promise.
According to the AP, legislative action on the transgender bathroom issue isn't likely to happen until lawmakers reconvene in the new year.