Kesha Offers Up Her Most Inspiring "F*ck You" to Body Shamers Yet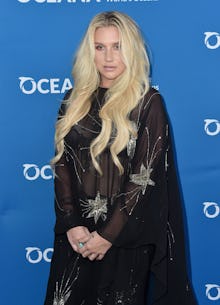 If there is anyone that deserves a vacation, it's Kesha. 
The 29-year-old has been embroiled in an ongoing public battle with producer Lukasz "Dr. Luke" Gottwald, a fight that has kept her out of the studio for nearly three years. But, after returning to the stage and releasing a new collaboration with Zedd last month, Kesha has an inspiring message for fans and haters alike: She's taking her voice back. 
"I have been battling depression and an eating disorder for a while now," she captioned an Instagram photo Sunday of her silhouette flipping off the camera in front of a sunset. "My career is in a strange place and it feels like I'm fighting an uphill fight some days. But I have decided to take my life back. My freedom. My happiness. My voice. My worth." 
"Today I will say fuck it and live. So FUUUUUUUUCK it. today I'm making that choice. AND IM HAPPY AS A DAMN CLAM," she continued.
She then turned her attention to the body-shaming trolls who regularly fill her comment section up with toxicity. "... a big ol fuck u if u wanna hate on my body," she wrote, "just remember that makes u look like a dickhead."
Read more: Kesha Has a Powerful Message for Body-Shaming Trolls: "Get Over It"
Fans seem to appreciate the star's candor. "YAS GRRRL!!!!!! I'm so fucking proud of you! you're such an inspiration. thank you for existing and being awesome af," one person commented. "You go girl! Ur perfect ur voice perfect and your body's perfect," said another. 
This isn't the first time — and likely not the last — that Kesha has publicly fought body shamers. In fact, earlier in May, she took to Instagram to address the fact that she didn't have a thigh gap.  
"Byeeeeeeee haters and body shamers. bye byeeeeeee. I'm hot when my ass is big. I'm hot when it small. GET OVER IT," she captioned a photo from the Humane Society of the United States gala where she performed a powerful cover of Lady Gaga's "Til It Happens to You." 
Kesha has a message for the dickheads hiding behind their phones: Don't waste your breath. She's too busy relaxing on an island somewhere, swimming with whale sharks and getting back into the music scene, a throne fans can't wait to see her reclaim.
Correction: May 16, 2016