The Model From Calvin Klein's Controversial Upskirt Ad Has a Message for Those Offended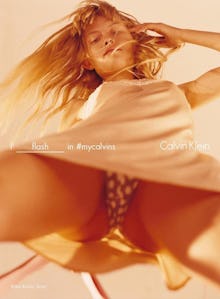 Calvin Klein has taken heat for its overtly suggestive underwear ads for decades, ever since a 15-year-old Brooke Shields posed for the brand in 1980. Its most recent campaign — full of cleavage, sexual innuendo, insinuated masturbation and a goat — is no different. 
The below shot in particular, which looks up 23-year-old model Klara Kristin's skirt, has ignited a social media debate, with people asking the brand to remove the advertisement.  
The comment section on the photo, which the brand captioned "Take a peek" on Twitter and Instagram, is filled with users saying the "creepy" photo glorifies pedophilia (since many believe Kristin looks younger than 23), and suggests that upskirt photos in general are unacceptable.
In addition, the National Center on Sexual Exploitation started a petition to suspend the "Erotica" campaign, stating, "Once again, Calvin Klein has used a depiction of sexual harassment or assault in its advertisements."  
On the other side of the argument, some are tweeting their support for the campaign by calling out the hypocrisy of those criticizing this particular ad but ignoring the influx of similar imagery which inundates social media, online publications and magazine covers. 
Although Calvin Klein has not addressed the controversy and the photo remains on the brand's Instagram page, Kristin posted the photo to her Instagram Friday, writing, "I love this photo @harleyweir took of me." 
"All this discussion about it makes me think about how alienated and scared some people are to the female human body... Be and love yourself and your sexuality #girlpower," she said. 
The photographer, Harley Weir, also commented, telling the Associated Press she was "really happy" with the response. 
As seen with these ads (and many of Calvin Klein's previous campaigns), along with similar ones from Abercrombie and Fitch and American Apparel, these are the campaigns that are sparking conversation — which is exactly what the brands are looking for. So is complaining about them really only taking the bait?
Where do you stand: too much flesh or much ado about nothing?