Florida Rep. Ileana Ros-Lehtinen Appears in Pro-Trans Ad With Her Transgender Son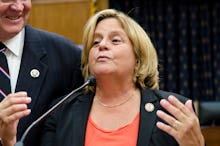 Republican Rep. Ileana Ros-Lehtinen of Florida is breaking away from the anti-gay and anti-trans rhetoric that resonates within the GOP base, amid a debate about transgender bathroom laws.
It's because Ros-Lehtinen's son, Rodrigo Heng-Lehtinen, is transgender. He told his parents about his change of gender identity years ago and left home, thinking they would not accept him, according to the New York Times.
But to Heng-Lehtinen's surprise, they accepted him and ordered him to come home. Fast forward several years — the entire family has cut a 60-second PSA urging support for SAVE, a Miami-are LGBTQ rights and advocacy organization.
"Family is everything," the congresswoman said in the ad, which was officially launched Monday. 
Then, Heng-Lehtinen talks about the need to support transgender people so they can lead productive lives without the fear of persecution and discrimination.
Dexter Lehtinen, a former federal prosecutor in Miami, said that his son and others in the transgender community should be given the opportunity to be responsible and accountable for their own lives.
"Every transgender person is part of someone's family and should be treated with compassion and protected from discrimination," the congresswoman added.
Watch the full ad here:
Ros-Lehtinen isn't the first high-profile Republican to break from her party on LGBTQ rights and other social issues.
In 2013, Former Vice President Dick Cheney famously came out in support of same-sex marriage because his daughter is an out lesbian.
If what Ros-Lehtinen has done becomes a trend, Republicans who have promised to mimic North Carolina's bathroom bill may soon find out they're standing on the wrong side of history — just as they were on the issue of same-sex marraige.