'Cosmopolitan' Being Dragged by Commenters After Posting Debatably Sexist Penis Size Meme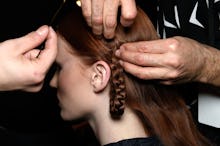 Cosmopolitan's Instagram is chock-full of half-naked men, celebs and relatable memes crafted around quotes uttered by its website's editors. 
A penis joke posted on the brand's account on Sunday was no different, except it triggered immediate backlash on social media, with many pointing out "blatantly sexist" undertones. 
Above is the photo that ignited the online fury, which was a quote from one of Cosmopolitan's assistant editors, Carina Hsieh. 
Hseih had originally posted the joke to her Twitter account on April 27. 
After the joke was turned into a meme on Cosmo's Instagram, celebrity hairstylist Mark Townsend posted a collage of the magazine's covers he has worked on, writing that he was "SO OFFENDED" by the "outrageously sexist post." 
"I've spent many hours doing hairs for #Cosmopolitan magazine photo shoots, including the 2 covers above, and I've spent many many hours cutting the hairs of #Cosmo editors so I took this one very personally," he continued. "I would think that a magazine as forward thinking as Cosmo would want to celebrate ALL the hairdressers who dedicate their time and energy on making women AND men look and FEEL their best and most confident."
Cosmo editor-in-chief Joanna Coles responded in the comment section of his photo writing, "Mark, we adore your covers and this was supposed to be a joke — about how men exaggerate! Our bad if it didn't pass the humor test. It's not really a slur against male hairstylists, it's a joke about men who think size matters more than effort." 
Read more: Cosmo Used Black Models for Trends That Should "Die"
Even though other Cosmo editors have also commented showing support and love for the stylist, many continue to voice their disdain with the photo, which is still live on the magazine's Instagram. 
"Some of the best hair dressers out there are men. Don't EVER tell me someone doesn't know how to do hair based off their gender," one person wrote. "Are you kidding me? How incredibly sexist and mean. It has nothing to do with gender, it's about skill. And trust me, I have had many women go scissor happy on my hair," said another. 
Over the past few years, Cosmopolitan has dealt with its fair share of controversy. In February, some Twitter users called out the publication for claiming "hair tattoos" were a trend. In October, many were infuriated after the magazine called the Kardashians "America's first family." In April 2015 an online article that used women of color to illustrate beauty trends that needed to die in 2015 prompted backlash. 
Is the latest hiccup a case of readers being oversensitive? Maybe. Nitpicking? Perhaps. One thing's clear: People on social media are ready to pounce on any and all published words — even if someone had the right (even harmless) intentions.