There Was a Huge Fireball Over the Northeast Last Night — Did You See It?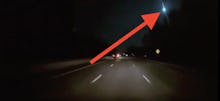 The American Meteor Society has received about 330 reports from people who saw a fireball streak across the Northeast sky around 12:50 a.m. ET on Tuesday. 
Most reports came from Maine, but people in parts of Canada and as far south as Pennsylvania reported seeing the fireball.
An officer with New York's Plattsburgh Police Department caught the fireball on video:
And a police dashcam in Portland, Maine, caught the fireball from a different angle:
AMS put together a compilation of multiple views of the fireball:
Fireballs are just another name for exceptionally bright meteors. When they hit the Earth's atmosphere, they ignite and quickly burn up. Thousands of fireballs hit the atmosphere every day, according to AMS, but most of the time no one notices them because they happen during the day or over oceans or uninhabited areas. 
If you saw the fireball last night, you can report it to the AMS.