Demi Lovato Shares the Deeply Personal Meaning Behind Her Nearly 30 Tattoos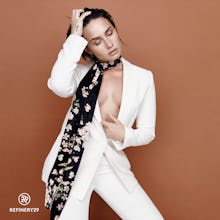 Any true Lovatics already know that Demi Lovato tattooed "Stay Strong" on her wrists to cover up her scars and remind her of her journey after spending time in a treatment center for an eating disorder, self-harm and drug addiction in 2010. The meaning behind her other nearly 30 tattoos, on the other hand, has long remained a mystery.
In an interview with Refinery29 released Monday, the singer revealed the meaning behind her more personal pieces of art. 
Read more: Demi Lovato's Latest Bikini Selfie Is Your Daily Dose of Body Positivity
Her first ever tattoo — which she got at just 16 years old — is feathers on her ribs with the lyrics "You make me beautiful" from Bethany Dillon's song "Beautiful." It "remind[s] her of God's love for her in moments of self-loathing," Refinery29 reported.
Lovato has a flock of 12 birds on her right arm. "At the time I just wanted birds, feeling free," she told the website. "But when I was in sober living, someone asked me how many there were and I realized there were 12. Oh my god, the 12 steps." 
As for the roman numeral three on her left wrist, Lovato explained it is "Nascar-inspired." She has been vocal about her tumultuous relationship with her dad, even penning the song "Father" about him. The two bonded over racing, so after he passed away in 2013, she opted for race car driver Dale Earnhardt's number. 
Her most recent art addition reads "Buddy was here." The tattoo, with a font "specifically chosen to look like a child's handwriting," is in honor of Lovato's dog that was killed in a coyote attack in July. 
Some of Lovato's other tattoos include "Let Go & Let God" on her feet, a cross on her right hand and the lyrics from her song "Warrior" on her back. 
As seen on social media with her bikini selfies, passionate tweet storms, and not-so-subtle subtweets, Demi Lovato is an open book, embracing the connective powers of revealing one's "flaws" as a way to build a deeper, more meaningful connection with her fans. Instagram is not just a platform for selfies, it's a way for young celebrities like Lovato, Amandla Stenberg and Rowan Blanchard to bridge the once-exclusive gap between fame and fandom, offering proof that 'likes' and follows don't diminish the insecurities and growing pains we all face.
"I'd rather live my life free and open than closed off, where people like me for something that I'm not," she told Refinery29. "I've been doing this so long I literally laugh at the things people say. You're not going to agree with everybody and you're not going to please everybody."