The Senate Just Confirmed Eric Fanning, the First Out Gay Army Secretary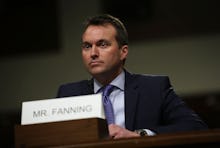 With more than a few not-so-positive headlines related to LGBTQ issues in the news, it's important to point out the good news. The U.S. Senate on Tuesday evening confirmed Eric Fanning as the first out gay Army secretary.
That makes Fanning the first gay person to lead a military service. LGBTQ advocates heralded Fanning's confirmation as a welcomed sign of progress.
Read more: "I'll Go With You" Buttons at Oregon College Help Identify Trans Bathroom Allies
Chad Griffin, president of the Human Rights Campaign, called Fanning's confirmation "a demonstration of the continued progress towards fairness and equality in our nation's armed forces," in a statement released Tuesday.
It's been eight months since President Barack Obama nominated Fanning to the post. His candidacy was held back for confirmation, not because of his sexual orientation, but because of Kansas Sen. Pat Roberts' objection to the president's plans to close the prison at Guantanamo Bay, Cuba.
Roberts, a Republican who opposed a policy that would relocate people detained in Guantanamo to U.S. soil, lifted a procedural hold on Fanning's confirmation Tuesday, the Washington Post reported. He cited a conversation he had with Deputy Defense Secretary Robert Work that the president has run out of time to implement his policy before he leaves the White House in January. 
But Fanning's confirmation marks yet another successful effort by the Obama administration to elevate and expand gay and lesbian rights, both inside and outside of the military. Army secretary is a high-ranking position that works alongside the general, together running the largest military branch.
Fanning, 47, has been a defense and national security specialist for over 25 years at the Pentagon. His new role comes just a few years after Congress and the Defense Department ended the "don't ask, don't tell" policy barring out gay and lesbians from serving in the armed forces. Military leaders are still wrestling with how to allow transgender troops to serve openly.
The confirmation of Fanning follows the historic trend of the U.S. armed services often leading the way on social progress— from racial integration of troops before the end of Jim Crow in the early 1950s to pay equity between male and female service members.