High School Student Slays in a Beyoncé Met Gala-Inspired Prom Dress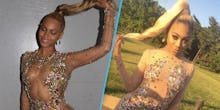 Sorry, not everyone can physically be Beyoncé. But, one can hope and pray that dressing in an nearly identical copy of her 2015 Met Gala gown will infuse you with an inkling of her ***flawless confidence. For 18-year-old India Ross from St. Louis, it did just that. 
"I felt like I was going to the Grammys," the aspiring fashion designer explained in an email when asked about wearing the dress to her prom on Saturday night. "Everyone slayed."
Ross knew she had to recreate the singer's beaded Givenchy gown the second she laid eyes on it, explaining it was love at first sight. She enlisted fashion designer Toi from Toi Box Couture to bring the replica to life. 
"I love everything about Beyoncé, her style, her life, her spirit, her visual album, her music, her own clothing line, she's very inspirational," Ross said. "I love that she can wear anything and still make it look good." 
As with most viral moments, trolls were quick to accuse Ross of thinking she was the Grammy-winning star. She addressed this writing on Instagram, "Let's make this clear I don't think I'm Beyoncé but she's my inspiration." 
Read more: Dad Hilariously Tries on Daughter's Prom Dress, Proceeds to Win the Internet
Like Beyoncé at the Met Gala, Ross stole the show at her prom and wishes she could relive the night — despite what anyone else has to say about her outfit choice. 
"I like to hear the criticism from both sides," she said. "I'm very confident and wouldn't let the haters break me." 
Besides, the haters are probably just jealous. Right, Queen Bey?