This Black Woman Clapped Back at Donald Trump in the Best Way Possible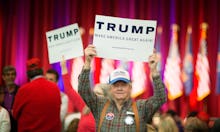 Was America ever really as great as Donald Trump says it was? Krystal Lake doesn't think so. 
Lake, who works at a Staten Island Home Depot, wore a cap mocking Trump's campaign pledge. "America was never great," the text read. A photo of Lake wearing the hat, which was apparently taken by an angry customer and shared on social media, has sparked outrage and death threats.
Here's the photo, which mocks Trump's campaign pledge to "make America great again":
Outrage is still palpable on Twitter:
Lake, who supports Bernie Sanders, thought the hat's message was pretty simple. "The point of the hat was to say America needs changing and improvement," Lake said in an interview with the Staten Island Advance, which first reported the story. "I don't think it's a positive message to say, 'Let's look to the past.'"
Representatives from Home Depot said that employees aren't allowed to wear hats with political messages. "Unfortunately, no one on our management team saw her wearing the hat," a spokesperson said to the Advance. "Otherwise, they would have had her remove it immediately."
But Lake insisted that other employees wear Donald Trump campaign gear and haven't been reprimanded. "For the past two months, there have been a few people I work with wearing 'Vote for Trump' pins on their uniforms," she told the Advance. "But no one ever says anything to them."