Ashley Graham Had $20 Bills Waved in Her Face by Agent Telling Her to "Lose More Pounds"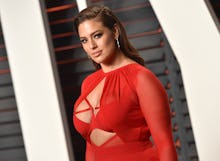 From being the first plus-size model to cover Sports Illustrated and Maxim to passionately lip-locking with Joe Jonas in his band DNCE's new music video, Ashley Graham is leading the slow but essential charge toward inclusivity of curvier women in the mainstream media. But this doesn't mean the long-legged beauty experienced overnight success. 
"I had agencies telling me that I had to lose weight," Graham told People in a new interview. "I had one that waved money in my face and said, 'If you lose more pounds you can make a lot more of this,' and he was waving $20 bills in my face." 
It's not just a skinny vs. plus size issue; certain plus-size figures are preferred over others
"I was peaking at a size 18, and in the plus size fashion industry, models go from a size 8 to a size 16/18," she said. "So if you're on the smaller size or the bigger size, you're not going to work as much as if you're in the middle." 
Graham has previously discussed the hurdles she faced while trying to find success in an appearance-based industry. In July 2015, the 29-year-old told the Coveteur that the criticism didn't just stem from agents — she also heard nasty remarks from fans and other models. In February, she explained to Ellen DeGeneres how she was often told, "You're too pretty, you're too ugly, you're too fat, you're too skinny."
Read more: Ashley Graham Shares Passionate Lip-lock With Joe Jonas in New DNCE Video
Scrutiny of women's weight is hardly limited to the fashion industry. A growing list of actors from Jennifer Lawrence to Amy Schumer have spoken out about being pressured to lose weight for a role. In December, Carrie Fisher said she was asked to lose over 35 pounds for Star Wars: The Force Awakens. 
"We treat beauty like an accomplishment and that is insane," she told Good Housekeeping U.K. "Everyone in LA says, 'Oh you look good,' and you listen for them to say you've lost weight." 
Thankfully, stars like Fisher — and now Graham — have gotten the last laugh, proving their naysayers wrong and showing that it doesn't take a particular size to bring about a woman's success in her industry.