Lady Gaga Defends Kesha After Dr. Luke's Label Canceled Her Billboard Performance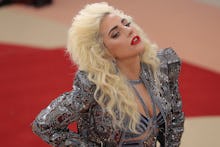 May 19, 2016, 3:48 p.m.: Thursday afternoon, Kemosabe Records sent Mic an official statement via email, saying the label had lifted its "suspension" of her performance after it "obtained assurances" that Kesha will not use the platform to speak to her allegations against Dr. Luke. Mic's original story appears in full below.
Rumor had it Kesha was planning to make a "statement performance" at this weekend's Billboard Music Awards. Those rumors were wrong: It was only going to be a Bob Dylan tribute.
"I was never going to use a picture of him, speak of him or allude to my legal situation in any way," Kesha wrote Tuesday on Instagram. Yet still, Dr. Luke pulled the plug on the performance.
Read more: Kesha's Hate Crime Countersuit Against Dr. Luke Has Been Thrown Out of New York Court
Now, one of Kesha's closest allies, one of the first who stood with her when the #FreeKesha movement began, has come forward with her support. In a tweet Wednesday night, Lady Gaga reinvigorated that hashtag, pointing out how absurd it is Dr. Luke could own Kesha to such an extent that he can dictate when and where she can sing. 
"Listen Ursula," she wrote, "we want her voice back."
The words mirror a Twitter rant that Kesha's mother sent last night, in which she asked artists to stand up for Kesha. It's no surprise Gaga was one of the first to respond.
Lady Gaga has been one of Kesha's most vocal supporters since Kesha began her legal battle with Dr. Luke in October 2014, suing him for sexual assault and battery. That trial has played out in the public eye since, with fans demanding Kesha's freedom outside of the New York City courtroom and Sony's offices.
Gaga spoke out for Kesha earlier this year while getting ready to perform "'Til It Happens to You," her anthem aiming to empower sexual assault victims, at the Oscars. "I'll be thinking of you tonight," Gaga tweeted. "This is not over we'll stand by you until you are free to live a happy life."
On May 8, Kesha performed Lady Gaga's "'Til It Happens to You" at a Humane Society Gala — a performance the New York Times noted did not require Dr. Luke's approval. Her recent song with Zedd, "True Colors," on the other hand, did have to be Dr. Luke approved, and it was.
Until she's finally freed from that contract, this is likely the way it's going to be. Dr. Luke will decide which Kesha we see on any given performance and what she will and won't be allowed to sing about. It seems her alleged rape and Bob Dylan are both off the table. 
Those curious about what Kesha singing Bob Dylan would sound like don't have to look much farther than the video below, taken from a Wednesday night Ben Folds concert. At the Orpheum in Los Angeles, Kesha appeared alongside Folds to perform Dylan's "It Ain't Me Babe" as well as Folds' rework of her hit "Sleazy."
Oh the beauty that could have been.
May 19, 2016, 3:48 p.m.: This story has been updated.