These LGBTQ Groups Are Being Excluded From the UN's World AIDS Summit in June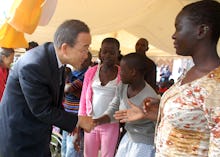 Dozens of United Nations member nations want to make an upcoming global AIDS summit an anti-LGBTQ affair.
It's angering human rights activists in the west. More than 50 countries, many of them members of the Organisation of Islamic Cooperation, have voted to block the inclusion of 22 gay, transgender and drug abuse help groups from the UN General Assembly High-Level Meeting on Ending AIDS in June, the Guardian reported.
Although the member countries have not officially given a reason for excluding non-governmental organizations, some member countries of the OIC are noted for having anti-LGBTQ and poor human rights records. OIC member countries include Uganda, Sudan, Saudi Arabia, Iran and Indonesia.
The excluded groups do vital work around the world to prevent HIV transmission in LGBTQ communities and among drug users.
Actwid, which represents people living with HIV in Cameroon; Colour Pink, which advocates for gay men and transgender people in Jamaica; and Esvero, a drug-user safety resource based in Russia, are among the excluded groups, according to the Guardian.
Kapya Kaoma, a senior religion and sexuality researcher at the Political Research Associates think tank near Boston, was among people in the human rights activism community to speak out.
 "It is unspeakable," Kaoma said. "To try and bring in politics when they dealing with another person's health and life is inhuman. This is not about politics. This is about the common good of the human race."
Despite criticism from the U.S., Europe and Canada, the official UN response has been predictable handwringing.
American UN Ambassador Samantha Power condemned the anti-LGBTQ position of AIDS summit participants. 
"Given that transgender people are 49 times more likely to be living with HIV than the general population, their exclusion from the high-level meeting will only impede global progress in combating the HIV/AIDS pandemic," Power wrote in a letter to UN General Assembly President Mogens Lykketoft of Denmark. "The movement to block the participation of NGOs on spurious or hidden grounds is becoming epidemic and severely damages the credibility of the UN."
UNAIDS, the agency that organizes the summit, issued a statement on Wednesday, stating its desire for the meeting to be as inclusive as possible. "Nongovernmental organizations working on the ground to ensure that no one is left behind must have the opportunity to contribute to this important forum," it said, according to the Guardian's report.
Lykketoft, the general assembly president, told the New York Times that the matter may be out of his hands. "Unfortunately, it is not within my mandate to overrule objections by the member states or to make the objecting countries known to the public," he said.
The spokesman for the UN Secretary General, Ban Ki-moon, did not immediately respond to a request for comment Thursday.