Khloé Kardashian Just Revealed Her Best Beauty Secret Yet — And It's Under $20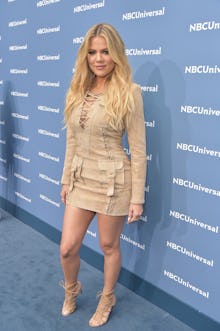 Turns out you don't need to dish out an extraordinary amount of Benjamins to get Khloé Kardashian-esque brows. 
The 31-year-old took to her website — yes, the one that costs $2.99 to see all of its locked subscriber-only content — to divulge exactly how she (or at least her makeup artist) perfects her selfie-ready arches. 
Her $18 holy grail product? Anastasia Beverly Hills Dipbrow Pomade. 
The youngest Kardashian sister also offered up advice for someone, like herself, who breaks the cardinal stick-to-one-esthetician rule and ends up with short brows.
"I made the mistake of trusting someone new to reshape my brows," she wrote. "I went to someone else once, when I needed an appointment ASAP, and the new girl shortened my eyebrows by accident. It took FOREVER to grow them out. Lesson learned: I'll never go to anyone else again." 
Read more: Khloé Kardashian Gets Real About the Reason She Photoshops Her Gym Selfies
Kardashian has often used her app and website to give fans a bird's-eye view into her beauty routine. Unlike other questionable items that the Kardashian krew promotes (like waist trainers and Fit Tea) Khloé tends to suggest common makeup products like lip liners, shampoo and face oils — most of which are under $30 and found at Sephora or a local drugstore. 
By opening up about editing her photos (like most people probably do) and discussing being called the "fat sister," she has time and time again proved to be the more down-to-earth, relatable Kardashian — something that trickles down into her makeup bag. 
You might want to take her recommendations because as the oh-so spiritual Khloé Kardashian said in her post, "Never trust a bitch with bad eyebrows."