Symone Marshall Dies in Texas Jail — and Her Family Wants Answers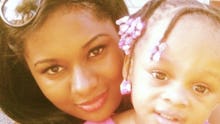 Symone Marshall, a 22-year-old mom, wasn't in Texas long before she died.
Family members said Marshall had recently moved there and was involved in a single car crash on I-45. Paramedics saw she and a female passenger didn't have life-threatening injuries, according to KHOU. But instead of being taken to a nearby hospital, the two women were apparently booked in a Walker County, Texas, jail for misdemeanor and felony possession of cocaine. 
The unidentified passenger eventually posted bond, but Marshall couldn't come up with the $5,000 to buy her freedom. Despite complaining of head pain and repeated blackouts, Marshall's family says she did not receive medical attention. On May 10, Marshall reportedly had a seizure and was taken to a nearby hospital, where she was pronounced dead. 
"We are feeling terrible," Marshall's sister, Honey Marshall, said in an interview with local reporters in Houston. "All we had was each other. We're just feeling heartbroken right now." Marshall's sister also says she urged jail officials to take her to a local hospital several times, but to no avail.
The apparent mystery over Marshall's death has inevitably led to comparisons to Sandra Bland, the 28-year-old black woman who was found dead in her Texas jail cell in July. Bland's case became a national rallying cry and sparked the online hashtag #SayHerName, meant to lift up the experiences of black women who are victimized by the criminal justice system.
Walker county Sheriff Clint McRae did not immediately respond to a request for comment from Mic, but to local reporters he said: "We're a very transparent department. We want to know exactly what happened so we can go home and sleep at night."