Sara Ramirez Exits 'Grey's Anatomy' and TV Loses Its Most Complex Queer Latina Character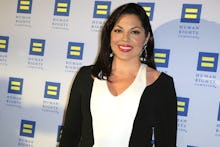 Actress Sara Ramirez has bid farewell to fans of her pioneering queer character on the hit TV medical drama Grey's Anatomy on ABC.
Ten years ago, Ramirez first appeared as Callie Torres, a Latina surgeon navigating her career at a hospital in Seattle, who had passionate relationships with women and men. Early on, LGBTQ media diversity advocates had praised Ramirez's character for not falling into harmful stereotypes about bisexual people. 
Ramirez announced Thursday night that she was taking a break from acting on the show, in a tweet posted after the 12th season finale aired. "I'm deeply grateful to have spent the last 10 years with my family at Grey's Anatomy & ABC — but for now I'm taking some welcome time off," she wrote in a note posted with the tweet.
The actress also expressed gratitude to the show's executive producer, Shonda Rhimes, whose stable of shows on ABC such as Scandal and How to Get Away With Murder have put LGBTQ and racially diverse characters in leading roles. Rhimes wished Ramirez well on Twitter.
Ramirez's departure comes as TV creators across broadcast networks and streaming services have increased visibility of LGBTQ characters. Bisexual representation rose in 2015, with a notable increase (from 10 to 18) in the number of bisexual men appearing on cable programs, according to GLAAD's Where Are We On TV report.
Ramirez, who was born in Mexico, provided more diversity, given that so many LGBT characters are white. GLAAD said TV creators need to show more racial diversity in LGBTQ characters. Approximately 33% of 881 regular characters counted on broadcast programming in 2015 were people of color, a six-point increase from 2014, according to GLAAD's report.
Fans who said they appreciated Ramirez's work as a standout queer Latina character reacted to her departure on Twitter.