San Francisco Police Chief Greg Suhr Resigns After Another Fatal Officer-Involved Shooting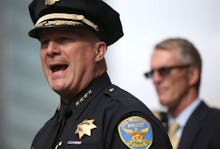 Embattled San Francisco Police Chief Greg Suhr has resigned.
The move came at the behest of Mayor Ed Lee on Thursday after yet another fatal officer-involved shooting. An unidentified 27-year-old black woman was shot and killed in the city's historically black Bayview neighborhood. It's the third fatal officer-involved shooting since December.
In a brief statement to the San Francisco Examiner on Thursday, Lee suggested to reporters that the department's problems extended beyond Suhr, but he's ultimately to be held responsible. 
"The progress we have made has been meaningful, but it hasn't been fast enough, not for me and not for Greg, and that's why I have asked for Chief Suhr's resignation," Lee said.
Toney Chaplin, who is black, will serve as the city's interim police chief.
Suhr's resignation validated complaints from city residents, many of them of color, who have long criticized the department. Last month, a group of protesters dubbed the "Frisco 5" staged a 17-day hunger strike in an effort to force either the police chief or the mayor's designations. 
Some of the Frisco 5's supporters' confrontations with police turned ugly.
Earlier this week, in a sit-down interview with the San Francisco Chronicle, Suhr said that he had no intention of stepping down. "There are a lot of things that are moving parts," he said about instituting reforms in the department. "I can't honestly think of somebody else who could get it all done as quickly as I can."
But those reforms haven't happened fast enough for Alex Nieto, Mario Woods, Luis Gongora, and Amiclar Perez-Lopez, who have all been killed by San Francisco police during Suhr's five years at the head of the department. Since 2000, there have been more than 100 officer-involved shootings by SFPD, and over 40 of those have been deadly, according to a federal civil rights lawsuit filed by Woods's family.
In February, the Justice Department launched a federal investigation into San Francisco's police force. "In the days and months ahead, we will examine the San Francisco Police Department's current operational policies, training practices and accountability systems, and help identify key areas for improvement going forward," Attorney General Loretta E. Lynch said in a statement at the time. "I am confident that together we can make certain that our officers have the tools and training they need to do their jobs, and that every member of the San Francisco community has the protection and service they deserve."
Lee, who'd written federal officials asking for an investigation, said: "Our police department will have at least as much training in de-escalation as we do in use of force."
Shortly after Suhr's resignation was announced, more than a hundred people held a candlelight vigil for the unidentified 27-year-old woman who was killed on Thursday.
Early reports say that there are no signs that the woman had a weapon.