Donald Trump: Hillary Clinton May Want to "Keep Her Eye" on Bill at the White House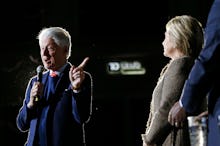 He says she might want to watch that.
Donald Trump swung away at likely general election rival Hillary Clinton during a Friday morning call-in to Fox & Friends, keeping up the biting allusions to her husband's infidelity.
Asked about the Democrat having said she'd put former President Bill Clinton in charge of economic revitalization if she wins, Trump had a different take.
Read more: Donald Trump Just Accused Bill Clinton of Committing Rape
"Maybe she's just saying that — or maybe she just wants him around the White House so she can keep an eye on him," Trump said.
Trump threw the elbow at the Clintons as he faces continued scrutiny of his own treatment of women — a demographic that's got problems with him, according to recent polling.
The presumptive GOP nominee has responded to the criticism by counterattacking the ex-president for alleged sexual misconduct — which Bill Clinton has denied — and saying Hillary Clinton "enabled" her partner's sketchy behavior.
On Friday, Trump kept trying to deflect the focus on his own widely reported foibles with females by tossing in another veiled barb at the former president's wandering eye.
"Maybe he'll bring the 'energizer' with him," Trump said when asked about why Clinton might want to put her spouse in charge of economic issues.
Trump used the term in a tweet Tuesday as well.
Trump didn't explain the "energizer" reference on Fox.
News reports have concluded it could be a reference to Julie Tauber McMahon, an energy executive whose company the former commander-in-chief talked up for federal funding in 2010.
The nickname has also been used in connection with a "blonde, busty" supposed Clinton paramour described by former Secret Service agent Ronald Kessler, author of a tell-all book about the presidency.