This Actress Used Instagram Filters to Teach the World a Stunning Truth About Psoriasis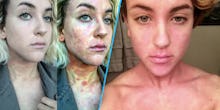 Many people use Instagram filters to show how closely they can get to "I woke up like this"-caliber skin. But actress Ciena Rae Nelson is using them to emphasize a truth she lives with: psoriasis. 
"What it looks like on the left after I've covered it up with makeup vs. what it feels like on the right," she wrote on a side-by-side Instagram comparison Monday. "Most people looked at the left in person and didn't notice much but dry spots here and there, not noticing what was really underneath." 
Nelson, who is known for her role on MTV's The Hard Times of RJ Berger, upped the saturation and structure of the right photo in order to "show how intense the feeling truly is," she told HelloGiggles.  
She says that when people see her with makeup, they don't realize that underneath is "chronic itchiness and chronic fatigue." 
What most people know about the autoimmune disease — which affects around 7.5 million people in the U.S. — comes either from Kim Kardashian West or America's Next Top Model's CariDee English. But as Nelson pointed out in another Instagram photo in March, "Skin conditions are not cosmetic issues." 
Two years ago, she had to go to the hospital for severe dehydration and a fever.
"[Skin conditions] cause physical pain and suffering, and oftentimes a feeling of being trapped in your own body, on top of the social anxiety," Nelson wrote.
The severity of each flareup can vary, and the condition can sometimes seem to abate entirely — but Nelson tells her followers that the threat always lingers.
"I personally struggle with sleep deprivation due to constant, widespread itchiness that feels more like I'm being stung or bitten then I am 'itchy,'" she writes. "Sometimes it's completely unbearable and I have to go to a calm place in my mind to meditate and breathe until it lessens, but it never fully goes away." 
Social media has become a place where people can discuss issues not addressed by mainstream media. Think Shalom Nchom covering her scars in a YouTube video — or Paige Billiot flaunting her facial birthmark in her Flawless Affect campaign. And Nelson's honesty is having a meaningful effect on her fans. 
"I thank you for your high and wide courage, in this way you have given some to me to fight my own battle against psoriasis," a follower commented on one of her photos. 
"I just started breaking out on my face & was feeling awful about it. I'm glad I found your page, psoriasis sucks!" wrote another.
The struggle is real — but so is Nelson's bravery.