4 Major Ways California Textbooks May Soon Reflect a Majority Nonwhite Student Population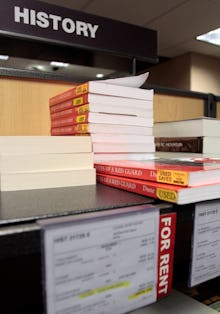 California doesn't have to wait until 2043, when demographers have estimated that the U.S. will be a majority-minority nation, to start acting like it. In the Golden State, the 6.2 million public school children are already majority nonwhite — and that's why state education officials are changing their history and social studies textbooks to reflect that diversity.
The state Instructional Quality Commission met Thursday to establish a new framework that would guide textbook publishers in choosing materials to include in the new edition. If the panel recommends textbook changes that reflect the diversity of its student population, it will be the first overhaul since 2000, the Associated Press reported.
California's K-12 students are 53% Latino, 25% white, 12% Asian and 6% black, according to the state Department of Education. Across the nation, Asian Americans are the fastest-growing ethnic group, experts at the Pew Research Center have noted.
The debate among ethnic groups over how their people are presented in textbooks has been fraught with controversy. In October, textbook publisher McGraw-Hill issued an apology over a caption in its latest World Geography edition, which refers to African slaves who were forcibly brought to the Americas as "workers" who immigrated there. The apology came after widespread criticism from scholars and parents of African-American children.
To avoid these kinds of inexcusable mistakes, ethnic groups in California are weighing in on the textbook debate, according to the AP. Here's what students could see, if the groups are successful:
Social studies books could cease referring to people from India and the ethnic groups with origins there as South Asian.
The Hindu American Foundation has argued that the framework excludes modern geography that could help describe other ancient civilizations. The foundation opposes recommendations by the South Asia Faculty group, which prefers the term "South Asian" to describe a region that now includes Pakistan and Nepal.
The foundation also wants a more balanced description for lessons on the caste system and the adherence to Hinduism in India.
Textbooks could no longer mention Asian "comfort women" in lessons of World War II. 
Japanese-American scholars have disputed historical accuracy of the enslaved women during the war.
Textbooks could include more about Armenian genocide.
It's not just the Kardashians who care about this atrocity. Armenians want an expansion of lessons on the killing of an estimated 1.5 million people under the Ottoman Empire over 100 years ago.
Textbooks could highlight more Filipino-American history.
Filipino groups want more lessons on the Bataan Death March of 1942 in the Philippines. That's when 10,000 Filipinos and 750 Americans died on a forced 60-mile walk to prison.