Meet Stuff Curry, the Steph Curry Look Alike Sending a Powerful Message About Fat Shaming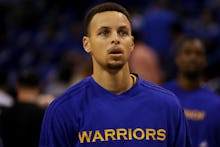 This is Landon Lee Benton, a 10-month-old baby who lives with his parents in Quincy, Illinois: 
He's also known as "Stuff Curry" because of his uncanny resemblance to NBA superstar Steph Curry:
Baby Stuff Curry has become an internet sensation and now has more than 35,000 followers on Instagram:
His Instagram following didn't grow overnight. 
In fact, when his parents first started it, internet trolls made mean comments about his weight, and even nicknamed him "Stuff Curry" to make fun of him.
The teasing was especially painful to his mother, Jessica, whose older son committed suicide while she was pregnant with Baby Stuff.
"When he was in 11th grade, he told me about how the kids at school would say mean things to him and call him names and make fun of him," Jessica said in an interview with ESPN. "And I didn't realize how much that had taken a toll with his own self-esteem at the time... I have one kid who's not here with me and told me people made fun of him. I'm not gonna have another kid think that the whole world was laughing at him."
Baby Stuff Curry is perfectly healthy, his parents say. Instead of bowing down to bullies, they stepped up his Instagram presence and reclaimed the "Stuff Curry" nickname in the best way.
"To me, he's just my baby," his mom told ESPN. "But to so many other people, he's so much more."