Men Tried on High Heels to Make a Point About a Gender Double Standard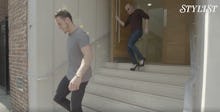 Earlier this month, the world was reminded that it is still A-OK for workplaces to mandate gendered dress codes after a London receptionist at finance firm PricewaterhouseCoopers was sent home for not wearing high heels. 
In response, U.K. fashion magazine Stylist asked its male employees to teeter around in some pumps for the day. And the resulting video earned every one of those 13 million views. 
The verdict is simple: Heels suck.
Here's what it's like to walk down stairs in heels:
And here's what it's like to run:
And don't get us started on what happens when heels meet cobblestones:
Or grass:
The video does more than just provide a laugh at the expense of these hapless guys: It addresses a sexist double standard that plagues working women like Nicola Thorp, the PwC receptionist, and another who was forced to wear heels for her waitressing shift — a woman whose bloody feet went viral on Facebook.
Read more: This Woman Was Sent Home From Work for Not Wearing High Heels at the Office
One of the men in the video perfectly summarizes the double standard saying, "I genuinely feel sorry for women who are forced to do this."
Watch the full video below: