Baltimore Officer Edward Nero Found Not Guilty in Death of Freddie Gray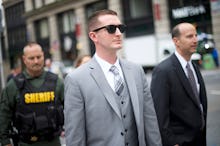 A judge in Baltimore ruled Monday that police Officer Edward Nero is not guilty of assault, reckless endangerment and official misconduct for his role in an arrest that resulted in Freddie Gray's death last April. 
One of six officers charged in connection with Gray's death, Nero stood accused of arresting Gray without probable cause and being negligent for failing to buckle the shackled 25-year-old black man into a police van seat. Gray, who was arrested April 12, 2015, died a week later from severe neck and back injuries that authorities said he suffered in the police van.
Nero, 30, faced a maximum of 10 years in prison on the assault charge, and up to five years for reckless endangerment, the Wall Street Journal reported.
Gray's case sparked local civil unrest and days of protest nationwide. Baltimore prosecutor Marilyn Mosby charged the officers last year. The charges against them ranged from "depraved heart" murder to the lesser offense of misconduct in office. 
Nero, 30, opted for a bench trial, in which a judge — rather than a jury — renders the verdict. 
Nero's defense attorney had argued that his client didn't arrest Gray, that it was the police van driver's responsibility to buckle Gray in, and that the department's seat belt requirement for detainees is a suggestion rather than a rule. 
Nero is the second officer to stand trial in the Gray case. The trial of another officer charged with manslaughter, William Porter, ended with a hung jury in December. Porter petitioned not to testify against his fellow officers, but the Maryland Court of Special Appeals ruled in March that he could be ordered to serve as a material witness against his fellow officers.
The decision allowed the trials of Sgt. Alicia White and Officers Caesar Goodson Jr., Garret Miller and Brian Rice to move forward. Goodson, who drove the police can, faces a murder charge, while White faces charges of involuntary manslaughter, second-degree assault, official misconduct and reckless endangerment.
Since April 2015, Gray's case has become a lightning rod for policing reform not just in Baltimore, but also around the country. In May 2015, Attorney General Loretta Lynch announced that the Department of Justice would investigate the Baltimore Police Department over a pattern and practices of discriminatory policing and uses of excessive force. 
Stephanie Rawlings-Blake, mayor of the majority black city, fired Police Commissioner Anthony Batts last July. Batts, who is black, was replaced by his deputy, Kevin Davis, who is white.
Correction: May 23, 2016