Plus-Size Model Iskra Lawrence Just Made a Strong Point About Photoshopping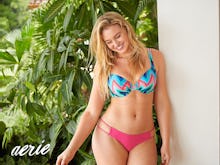 After years of being digitally altered in photos, plus-size model Iskra Lawrence is reclaiming her body — cellulite, scars, freckles and all. 
On Sunday, the 25-year-old posted one of her recent Aerie ads, explaining how it feels to not be retouched as a model for the lingerie brand's Photoshop-free #AerieReal campaign. 
Read more: Aerie Ditched Photoshopping Two Years Ago, And Sales Are Way, Way Up
"For years I was retouched where I could hardly recognize myself," she wrote in the caption. "Limbs were slimmed, giving me complexes that there was something wrong with me." 
She said that all of the digital tweaks lent themselves to unattainable standards of flawlessness that send the wrong message.
"When cellulite spots scars moles even freckles are retouched it makes you believe that they are imperfections and you should not have them," Lawrence continued. "You end up comparing yourself to this flawless image of yourself that you can't even relate to yet anyone else. So to finally model for a brand that doesn't retouch anything finally makes me feel good enough."
Lawrence has long been advancing the conversation around body positivity, from the photos she's posted to Instagram to videos she produced for her website Runway Riot – and fans are loving it.
"I admire the way you accept and love yourself," one person commented on the recent photo. 
And another: "Love the message you are putting out to girls and ladies everywhere."
But it's not just a fan here or there on social media admiring the Aerie ads and model — the brand has seen its sales numbers soar since it vowed to stop retouching photos in 2014. 
And the numbers don't lie.