'Glee' Star Amber Riley Gets Dental Surgery, Speaks Truths: "Let My Big Ass Live"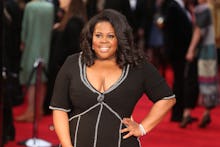 It's "David After Dentist," if David had a bone to pick.
When Glee star Amber Riley recently had dental surgery, the anesthesia she received did more than numb her pain. It also provided that little bit of courage that she needed to address her haters. 
"You know, there are just some things that my sober mind keeps me from sharing," the 30-year-old actress said in an Instagram video posted Saturday. 
"That ends tonight. I've got some things I need to get off of my chest," 
Read more: 'Orange Is The New Black' Star Dascha Polanco Claps Back at Body Shaming TV Hosts
Then this: "Why does me being fat offend so many people? Is it because I'm confident, and I'm fly and I'm sexy? Do my thighs offend? Does my stomach offend? Does my big juicy ass offend? Why?"
"Let my big ass live," she continued. "I let y'all live. I love all colors, shapes and sizes. So, just so you know, when you come on here and you call me fat, it's not an insult. My ass is fat and the fellas love it. And so do I."
Even though she admitted in another post she was "high, very high," the candidness of her message resonated with her fans. 
"I needed to hear this today, thank you," one commented on the video.
"Get em girl. I love your confidence," said another.
Note to Riley: You don't need anesthesia to make your voice heard — the world is listening either way.