This 67-Year-Old Drug Dealer Turned Columbia Grad Proves It's Never Too Late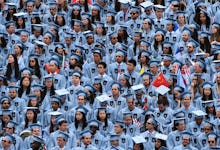 It took 35 years of addiction to drugs and alcohol — and a six-year prison stint for manslaughter — before New York City resident David Norman started living his best life.
Norman, 67, graduated from Columbia University on Wednesday with a degree in philosophy, the New York Daily News reported. He is the oldest member of the Ivy League school's class of 2016.
A former drug dealer in the historic Harlem neighborhood in uptown Manhattan, Norman told the Daily News he had an epiphany while serving time at the Mohawk Correctional Facility in upstate New York: 
I had a moment of clarity in which I was able to recognize everything I had done at that point was fairly counter-productive and I needed to engage in some new activities and some new behaviors.
He added: "It's always possible to pursue your dreams."
Norman's road to recovery and redemption included a love of learning.
Norman said he enjoyed reading books while in prison, and started learning Hebrew. Before he left Mohawk in 2000, he helped run a re-entry program that prepares inmates to return to society. He's now a research assistant in Columbia University's Mailman School of Public Health, according to the Daily News. 
Norman's story stands out as a refreshing rarity for formerly incarcerated individuals with criminal histories similar to his. The U.S. locked up approximately 1.5 million people in state and federal correctional facilities in 2013, according to federal data. About 650,000 men and women are released annually. In addition to lacking the right to vote in many jurisdictions, the formerly incarcerated face severe disadvantages on the job market and lack of access to public assistance programs like Section 8 for public housing and financial aid programs for college.
Norman plans to write a book that chronicles his life.
Perhaps the opening chapter of the novel will depict Norman, who has been sober for 21 years, crying tears of joy as he sits in the front row among graduates at Wednesday's commencement. Norman told the Daily News he's already got a working title for the book: "You Don't Have to Wait as Long as I Did."