This Study Says Fitbit Heart Monitoring Isn't as Accurate as You Think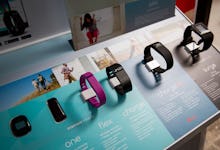 A new paper is challenging the legitimacy of Fitbit's heart rate technology. Researchers from the from California State Polytechnic University in Pomona concluded that Fitbit's heart rate technology might be seriously inaccurate. 
The data: Scientists monitored the heart rates of 42 participants while they exercised both indoors and outdoors, jogging, jumping rope, climbing stairs, doing plyometrics and running on a treadmill. The Fitbit Charge HR and the Fitbit Surge were tested against Zephyr Technology's BioHarness — a device that records both heart and respiratory rates. 
Researchers found the Fitbit wrist bands registered heart rates that were off by as much as 22 beats per minute. The report says not only were Fitbit's readings inaccurate, they were inconsistent — particularly during higher intensity workouts. 
Law firm Lieff Cabraser commissioned the study. The firm is currently leading the charge in a class action lawsuit against Fitbit over the accuracy of its heart rate monitoring devices, according to CNBC. 
Fitbit denounced the study. In a statement obtained by Gizmodo the company said, "What the plaintiffs' attorneys call a 'study' is biased, baseless, and nothing more than an attempt to extract a payout from Fitbit," Fitbit said. "It lacks scientific rigor and is the product of flawed methodology. It was paid for by plaintiffs' lawyers who are suing Fitbit, and was conducted with a consumer-grade electrocardiogram – not a true clinical device, as implied by the plaintiffs' lawyers. Furthermore, there is no evidence the device used in the purported 'study' was tested for accuracy."
That last bit — about how there's no evidence that the electrocardiogram used in the study was tested for accuracy — might not be true. A 2013 study concluded the Zephyr BioHarness is comparable to a Vmax metabolic cart, a device that measures heart rate in a lab, and a validated portable device that provides the same function. 
Meanwhile, there's little evidence that shows Fitbit's technology is as accurate as the company says it is. 
Consumer Reports to the rescue? In January, Consumer Reports jumped to Fitbit's defense with its own small test. The organization had previously recommended Fitbit's heart-rate monitoring devices, but re-tested the Fitbit Surge and Charge HR for accuracy when it caught wind of the lawsuit. Consumer Reports recruited two subjects to run on a treadmill while wearing the wristband and the Polar H7 chest strap. Though Consumer Reports found that Fitbit's heart-rate monitoring capabilities were accurate, it's worth noting that their test was very small in scope, especially when compared to the study from California State Polytechnic. 
This isn't the first time the accuracy of Fitbit's fitness products have been called into question. In April, Ball State University conducted a study reviewing Fitbit's Flex, One and Zip, and found that Fitbit was miscalculating both steps and calorie burn, according to Indiana Public Media.