Black Twitter Drags Justice Clarence Thomas for Being Only Death Row Case Dissenter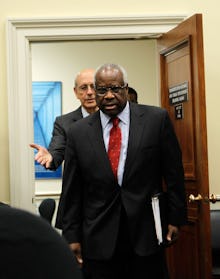 Clarence Thomas was the only justice among his Supreme Court colleagues to cast a dissenting vote Monday in an unfair trial case involving a black man sentenced to death in 1987.
Timothy Tyrone Foster, the Georgia man at the center of the case, sought to have his death sentence overturned after it emerged that prosecutors conspired to ensure his case was heard by an all-white jury, according to the Associated Press.
In the 7-1 Foster v. Chatman ruling, Thomas insisted that petitioners had not proven a violation of Foster's constitutional right to a representative jury. 
Black Twitter let Thomas have it after the decision was announced:
Thomas, who is one of two people of color presiding over the high court, has for years rejected the notion that his race or ethnic background should color the way he interprets cases involving race and civil rights. 
The Twitter dragging included some users dissing his sense of racial identity.
Thomas had been in the news most recently for giving an anti-political correctness commencement address and for an HBO depiction of his confirmation hearings in April. 
Some Twitter users said they wished the 67-year-old justice would retire already.