We Tried the "Bra of the Future" — And the Result Was a Resounding Shrug.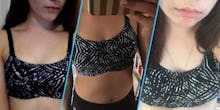 You probably remember the viral Kickstarter bra that was deemed "magical," a "masterpiece" or as Mic put it, the "bra of the future." 
The "Evolution Bra," as it is called in actuality, is made without underwire, able to be worn straight or cross back, designed with high performance, anti microbial, quick dry and moisture wicking fabrics and is reversible with eight different ways to wear it. Phew. 
Bras were not originally a part of Joanna Griffith's agenda when she launched the lingerie company Knix Wear. With her first line of undies, she was looking to create comfortable yet functional products designed by women for women using performance fabric technology. 
Little did she know that four years later she would have on of the most successful Kickstarter campaigns ever, garnering over $1 million in sales and selling over 55,000 bras in the preorder alone.
"We want to empower women to do more of what they love," Griffiths said in a phone interview. This includes creating products that can work in all aspects of a woman's life — from yoga class to work to happy hour. 
"Historically there have been fashionable, super sexy lingerie and on the flip side there are the functional products like the so-called granny panties," she explained. "I think there is a space to marry technology with a design that can dramatically change the way women feel." 
Her transition from producing underwear to bras was a natural one and was inspired by a multitasking coworker working in the Knix Wear office. 
"She wanted a bra she could wear all day without having to change," Griffith said. So she created it. After testing the product on over 70 women of all different cup sizes, the team was ready to fundraise on Kickstarter.
In an industry full of ill-fitted, uncomfortable options, what doesn't sound exciting about a 8-in-1 bra, or one that's so comfortable you can wear it all day long? With that in mind, and the hope that this was the mecca of bras, the ladies of Mic decided to test the recently-released $55 Evolution Bra. 
Turns out, this bra — one with no underwire and body con fabric — worked better for women with smaller boobs (shocker).  
Jackie Rapetti, office coordinator, size 1:
"Having a small chest (32B) gives me the freedom to wear basically any bra comfortably, but I was curious to see what made Knix Wear's bra so different. Update: Not much... Most of the time when I have an outfit that warrants a special bra strap, I just go braless...because I can. 
Ashley Edwards, news editor, size 2:
"I really wanted to love this sports bra, but my overall experience is a resounding shrug... The second day I wore it, I started to notice that the fabric is kind of tight and restrictive in an uncomfortable way and kind of squished my boobs into a point. 
Hayley Wilbur, style writer, size 4:
"It only fit with the straps criss crossed and I had to keep fixing the bottom so that my underboob wouldn't be exposed... I've found comfortable, more supportive bras before. I'm fine with an unpadded version from Victoria's Secret."
Rachel Lubitz, senior style writer, size 6:
"The bra covered roughly half of my breasts, with most of them gushing out on the sides. If I went outside in this bra, I would be arrested. So, alas, my advice would be to absolutely size up."
When asked about the big boob issue, Griffiths explained that the company is listening to all and any feedback. "When we first launched our Kickstarter campaign we had 5 sizes that covered a 32A to a 38D," she said. "Due to an overwhelming response and requests for larger sizes we were able to extend our sizing. We made modifications to the bra for the larger sizes, playing with the level of bonding and internal structure, as well as thicker and more supportive straps."
Although she believes her bra currently accommodates larger bust sizes, the company is working on expanding its bra offering, more specifically with a high-impact sports bra that will cater to bigger sizes. 
Read more: The Hidden Message of Victoria's Secret's New Bras? Small Breasts Are Better.
It might not have been our favorite product, but positive reviews on the company's website suggest that it might work for others. "The evolution bra has been groundbreaking for me," one person wrote. "I was dubious! but wow! my DD's are the comfiest and perkiest they've been in a long time," another said. 
Although the bra wasn't what we had hoped, it did raise our expectations about what we'd want to see in a bra, as well as reminds us about all of the terribly uncomfortable bras already on the market — especially for bigger chests. 
From Victoria's Secret to department stores, as one woman explained in a viral video back in April, there simply aren't enough bras catered toward a wide audience. We thought the Evolution bra might've been the answer to our prayers, but it's not. So, now it is just a waiting game to see what is next.