Kim Kardashian West Used Tea Bags and a Hotel Sink to DIY Dye Her Cannes Red Carpet Dress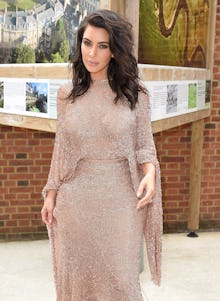 Even Kim Kardashian West isn't immune to the "one nude fits all" mantra that has pervaded the fashion and beauty industry. Last week before heading to the De Grisogono red carpet in Cannes, the 35-year-old mogul decided to dye her custom Lan Yu Couture gown's "nude" underlay with a product found in your pantry: tea bags.  
Why? "We had to try to darken the nude mesh dress under the silver layer, because it was too light to match my skin tone," she explained on her website.
Kardashian West — or, maybe more likely, a member of her glam team — placed Earl Grey tea bags and the dress into a water-filled hotel room sink for 30 minutes. 
"It took right up until the red carpet for it to dry," she wrote. "We had to blow dry it right before I put it on and it was still a little damp — but it worked and it made the mesh a better match to my skin tone." 
Kardashian West isn't the mastermind behind this genius hack. For all those not interested in dishing out $2.99 a month for access to her locked up website, YouTube is full of tips and guides on how to dye just about anything — fabric, paper and even hair — with tea. 
Although she simply calls the technique "a trick of the trade," from clothing and lingerie to leotards and accessories, women of all different shades have faced similar obstacles when trying to find "nude" products to match their unique skin tone. 
Read more: Here's the Latest Inclusive Lingerie Line For Women of Color
Thankfully, brands like Naja, Björn Borg, Christian Louboutin and dance apparel company Mahogany Blues to name a few, have realized that not everyone's "nude" is a variation of peach hues. This way, women like Kardashian West, can stick to drinking tea as opposed to dousing their clothing with it minutes before rushing out of the house. 
Just make sure to hold that cup correctly.