Ashley Graham's New Swimsuit Line Offers an Empowering Message To All Women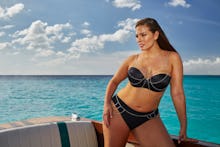 With her new bathing suit line for swimsuitsforall, Ashley Graham is encouraging you to forget about all of your swimsuit insecurities. String bikinis? Wear them. Cut-outs? Even better. The overarching message: As long as you're doing you, you're good.
"I want women of all shapes and sizes to feel like they can buy themselves something special and luxurious," she told Glamour about the new collection, which went on sale Monday. "I want it to be empowering. I'm not out to make the token palm tree suits we see everywhere." 
There might not be palm trees, but the eleven-piece collection features strappy and lace options, a Swarovski-encrusted bikini (that'll cost you $398) and a mesh overlayed one-piece — all of which are inspired by James Bond films. 
"I really want the girl who is wearing the swimsuits to feel like James Bond," the 29-year-old told PeopleStyle. "I really believe when you put on these swimsuits you feel like you can take over the world and you are badass."
Read more: Ashley Graham Had $20 Bills Waved in Her Face Telling Her to "Lose More Pounds"
The collection is comprised of items she's had trouble finding in plus-size silhouettes, namely body-baring items that women like Graham are proud to show off.
"Just because I'm a size 14/16, doesn't mean that I don't want to look like my girlfriends who are size 4s," she further explained to Glamour. "I could never find a string bikini in my cup size or my butt size... Companies think that bigger girls won't buy this style because it's skimpy."
Along with comments on her Instagram photos of the collection, such as "this gal changed my self image" and "make me proud to be a curvy women," Graham said that she designed this line with the positive response to her Sports Illustrated ad and cover in mind. 
"It's changed the lives of women who have never seen themselves represented in a swimsuit issue," she said. "And since then, women of all shapes, sizes, and ages have told me I'm the reason they're getting in bikinis this summer. Hearing that makes me well up and remember why I'm doing this."
The body positive movement has been ramped up more than ever as of late, with models and celebrities voicing frustration with the lack of representation in a "straight size" dominated industry. But women like Graham, along with celebrities like Rebel Wilson and Melissa McCarthy, are doing more than just speaking out: They're acting on this issue, and creating these lines for women that have for so long gone ignored. 
With a lingerie collection for Addition Elle, this is hardly Graham's first experience designing for and representing a wide range of women. 
And for that, Graham remains our body positive bae.