Bill Cosby Is One Reason Why We Need to Do Away With Statutes of Limitations for Rape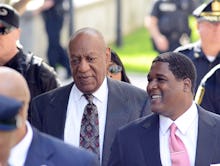 Bill Cosby will finally stand trial for sexual assault. 
The disgraced comedian was ordered on Tuesday to stand trial in Pennsylvania for felony sexual assault based on a 2004 claim by former Temple basketball employee Andrea Constand. 
Read more: Bill Cosby Will Face Trial for 2004 Sexual Assault Charges, Judge Orders
If convicted, he faces 10 years in prison. 
The order came after news leaked about a 2005 deposition in which Cosby admitted to having drug-fueled sexual encounters with teenage girls.
Q: She says that just days after ... she told you that she did not drink, you told her to come over to [your townhouse] and served her amaretto. Do you recall serving her amaretto? 
That admission was yet another blow to Cosby's already destroyed image as "America's dad." But while it hurts him in the court of public opinion, it likely won't do much in the court of law. That's because the statute of limitations has run out in virtually all of Cosby's more than 50 sexual abuse allegations, with the only exception being Constand's case in Pennsylvania from 2004.
Constand sued and settled with Cosby after the 2004 incident, which was all but buried until Hannibal Buress joked about Cosby's sexual assault allegations on stage during a comedy routine. Since then, dozens of women have come forward with their own stories of Cosby's alleged predation. Some are famous, like former supermodel Janice Dickinson and actress Beverly Johnson. Others, like Constand, were relatively unknown when they met Cosby; they were aspiring models, former lovers like former girlfriend Shawn Brown. They say they were drugged and raped by Cosby at his home in New York City, or in the dressing room of Johnny Carson's The Tonight Show, or while they were touring with Sammy Davis Jr. They were young, old, black and white. And, for the most part — no matter how compelling or similar their stories — almost all of them are helpless before the law because of states' statutes of limitations for sex crimes.
According to Jordan Michael Smith and AJ Vicens at Mother Jones, 34 states and Washington, D.C., have statutes of limitations on filing rape of sexual assault charges. Some states suspend those statutes if victims can provide DNA evidence. In Pennsylvania, where Cosby will stand trial, the statute of limitations is 12 years, which means that Cosby narrowly evaded prosecution. 
Other states like New York, where many of the alleged crimes took place because it is where Cosby lived and shot his iconic television series The Cosby Show, the statute of limitations for sex-related crimes is five years. Many states, however, do have statutes of limitations for sex-based offenses. Other states, including California, are currently debating legislation that would either extend statutes of limitations or get rid of them entirely. Lawmakers in Nevada even voted to extend that state's statutes of limitations because of the rape allegations leveled against Cosby.
Lisse-Lotte Lublin, who said she was raped by Cosby in 1989 at a hotel in Las Vegas, summed up why extended the time frame to report crimes, which was extended to 20 years, was so important. 
"They took my statement but they couldn't do anything about it," Lublin said in an interview with Fusion. "It was devastating, and it was a knot that grew inside my body of fear and abandonment and a lack of support that was overwhelming."
The issue extends far beyond Cosby. At least four men have come forward with allegations of childhood sexual abuse against hip-hop legend Afrika Bambaataa, but the alleged abuse happened decades ago, and therefore isn't subject to criminal charges. Ron Savage, a former Bronx Democratic Party operative who was the first one to publicly accuse Bambaataa of sexual molestation, said that he came forward primarily to inspire the state to change its statute of limitations. 
"I think the statute of limitations is unfair for victims," Savage said in an interview with the New York Daily News. "It took me all of these years to speak about this. I was embarrassed. I was ashamed."
In March, Pennsylvania Attorney General Kathleen Kane advocated to change that state's statute of limitations on child sex crimes. "There is no statute of limitations on murder," Kane said according to the Centre Daily Times, "because it is a 'life-altering event.' And for anyone who says sexually abusing a child is not a life-altering event, I beg you to ask someone who's been through it — because it is."
At least now one of Cosby's alleged victims will get her day in court.