This Girl's Shorts Included Bizarre Instructions for Taking a Butt Selfie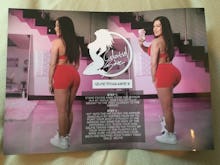 Clothing often comes with instructions. You know... ones that boast "dry clean only" or "machine wash cold."
A photo posted on Imgur — which has since been viewed over 150,000 times — shows the step-by-step guide that came with a pair of shorts she purchased from athletic apparel company Celestial Bodiez. But these instructions had nothing to do with laundry and a whole lot to do with how to take a butt selfie or "belfie" wearing its shorts. 
Read more: In One Photo, This Model Shuts Down the Thigh Gap Debate Once and For All
"Stand facing either right or left while planting all of your weight on the foot closet to the mirror," the selfie posting guide reads. "Focus on really pushing hip towards the mirror."   
Step two is a little more thorough: "While keeping all of your weight shifted to the leg closet to the mirror, take a backward step with the opposite foot. Place your non-selfie hand on the front of your thigh on the planted leg. Keep your tummy tight (and maybe give a little tricep flex lol). Smile. Selfie." 
Take out a protractor because the second guide suggests that you to stand at a 45-degree angle to the mirror with all of your weight on the foot closet to the mirror. 
In order to get Guide B's perfect booty-popping pic, "sit into the hip facing the mirror (basically popping your hip to point your booty straight at the mirror) and bend the knee of the opposing leg. Place your nonselfie-taking hand on the front of your thigh of the planted leg. Make sure you're arching your back and keeping your tummy tight. Smile. Selfie." 
The company claims to be known for its Booty Scrunch leggings; its Instagram page is flooded with images of customer's gym belfies. 
These guides, along with the fact that these shorts and leggings are "designed to accentuate curves in all the right places," further perpetuate the reality that a lot of what's on the internet is not what it seems to be. 
Earlier this month, plus-size model Iskra Lawrence posted a fake thigh gap photo, pointing out how many of those images that already fill your feed are likely products of good lighting and posing. 
And she's not the only one. In February, Instagram user @plankingforpizza uploaded before and after pictures that were taken within 30 seconds of each other to show how transformation photos are actually taken, writing "not everything we see meets the eye here on social media. You can show you best angles and hide your flaws." 
In December, Australian lifestyle blogger Essena O'Neill had exposed this on a wide scale by going viral for recaptioning her "false photos with short shots of reality." In other words, people have already gotten their hands on these type of guides and suggestions. 
So the next time you scroll upon a gym belfie, think about how this person might've just mastered Selfie Posing Guide A.