Texas' Voter ID Case Could Change How Voting Works Across the Country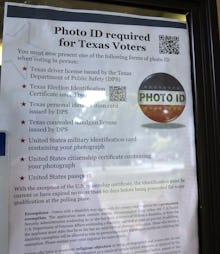 Texas that is at the center of a blockbuster voting rights case heard by a federal appeals court Tuesday. Whatever ruling a 15-member panel of the 5th Circuit Court of Appeals makes will impact 14 million Lone Star State voters in the upcoming presidential election, the Associated Press reported.
In Texas, conservative leaders have pushed strict voter-ID laws that federal officials found to be discriminatory toward racial minorities in 2014. Observers expect that the case will eventually be appealed up to the Supreme Court, where justices will decide whether Texas and other states with similar proposals are within their right to require forms of ID that black and Democratic voters are less likely to have than white, Republican voters.
The 5th Circuit had agreed to consider a lower court's injunction against the law in March. A federal judge in Texas ruled the law was unconstitutional in 2014, comparing it to a poll tax that historic civil rights-era legislation outlaws. 
Here are a few reasons why Texas' voting rights case deserves your attention:
Studies show that enough Americans lack government-issued photo IDs to swing statewide and national elections.
According to the Brennan Center for Justice at New York University, 21 million Americans lacked a government-issued photo ID in 2006, even though they were eligible and registered to vote. More than 600,000 voters in Texas lacked a government ID.
Proponents of ballot box access laws have cited the need to protect against voter fraud, but national voting rights advocates have said the laws are a solution in search of a problem. Conservatives typically fall back on a claim that deceased people are mysteriously casting ballots, although that claim is often found to be exaggerated. For example, in 2006, a pair of Georgia researchers examined approximately 2.1 million ballots cast in a statewide election and found "no evidence that election fraud was committed under the auspices of deceased registrants."
Texas law recognizes gun licenses as proof of identity for the purposes of voting, but not student IDs.
Texas' halted voter ID law would require residents to show one of seven forms of approved identification — which includes military IDs and concealed carry handgun licenses, according to the AP.
The state's law is among the strictest in the nation because it does not recognize university IDs given to college students. The Texas Higher Education Coordinating Board has estimated that college enrollment climbed from 1.44 million students in 2014 to 1.47 million in 2015.
The surge in voter-ID laws began after the election of the first black president and threatens to upend decades of voting rights gains.
The Voting Rights Act of 1965 banned states from passing laws that imposed cumbersome and discriminatory barriers to voting on black and other minority voters. The law required states with a history of racial disenfranchisement to seek federal preclearance before instituting any changes to voting rules and redistricting plans.
Nearly 50 years later, a crop of restrictive voting laws has crept up in Republican-led legislatures across the country. The Obama administration responded by taking legal actions against states that adopted so-called voter-ID laws, including in Texas, where it successfully blocked a strict photo-ID law.
In 2013, the Supreme Court ruled in Shelby County v. Holder that the federal preclearance of voting law changes was no longer needed in a nation that had presumably progressed on racial relations. That's when states such as Missouri, Kansas, Georgia and Ohio began adopting sweeping changes to voting laws, including voter ID and reducing the number of early voting days.
If Texas' law is allowed to move forward, it could again embolden states to seek new changes that disenfranchise voters, advocates have said.