This Sexist T-Shirt Perpetuates a Ridiculous Stereotype About Female Sports Fans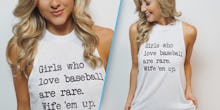 Landing front row seats behind the home team's dugout for a Red Sox v. Yankees game is rare. The Mets winning the World Series? Also rare. Something not uncommon? Women baseball fans. But one Dallas-based sport apparel company, Live Love Gameday, seems to believe otherwise. 
The online retailer is selling a shirt that reads "Girls who love baseball are rare. Wife 'em up." 
Many have taken to Twitter to voice their disappointment with the shirt, explaining that it not only perpetuates the stereotype that only men watch sports, but also categorizes women as objects waiting to be "wifed up:" 
Most importantly: It's not true. As Twitter user Susie Rantz points out, back in 2012 it was reported that women made up 45-47% of all baseball fans. 
Just this past March, blogger Megan Brown fiercely shut down a man who insinuated she wasn't a real sports fan by texting her, "I've never met a girl who likes baseball." Her clever pun-filled response went viral, receiving over 13,000 retweets as well as hundreds of tweets, including one from the Mets saying "We heart this." 
Read more: This Woman Shut Down a Sexist Dude Who Questioned Her Baseball Knowledge
For a website that markets sexy sport tanks and tees to women, this shirt — one that casts female fans in a negative light and is inherently sexist for suggesting sports is a dudes' only club — simply seems out of place. In the words of one Liz Lemon: