Model Don Benjamin Reveals What It Was Like Being Ariana Grande's Boy Toy In Her New Video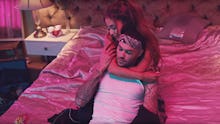 You might've recognized Ariana Grande's boo Don Benjamin in her new music video for "Into You," the second single off her new album Dangerous Women. That's because three years ago, the model was smizing for Tyra Banks on cycle 20 of America's Next Top Model. 
With appearances in videos for Keyshia Cole and Iggy Azalea, along with posing for brands like Guess and Tilly's, it's safe to say that Benjamin, who originally moved to California to pursue acting and music, didn't float into the oblivion like some of his ANTM contemporaries (No shade; just real-talk).
Read more: Who Is Ariana Grande's "Thinking Bout You" About, Anyway?
Mic chatted with Benjamin to find out exactly what it's like to shoot a music video with the Grammy-nominated singer. Turns out, all that chemistry was very, very real. 
"Oh man, [Ariana's] a great kisser," he explained in a phone interview. "The chemistry was there. We sat for a couple hours getting to know each other and getting comfortable before shooting. The more scenes we shot, the more comfortable it was." 
It was a long shoot, as it lasted about 18 hours, but this is something that Benjamin learned to handle being a part of a modeling reality show. "ANTM had long hours of filming," he said. "We had to be prepared for whatever they threw at you and I've taken this into my career."
Benjamin didn't want to give too many of Grande's secrets away, but he did say that there are a lot of hidden references that Ariana fans might be able to spot if they look closely enough. 
One example is that unforgettable animal cracker scene, where Benjamin says Grande said "uh, here, play with these animal characters:"
Look familiar? It's a nod to a popular scene from the 1998 thriller Armageddon. But, according to Benjamin, it might be more than just a homage and instead, one of the video's subliminal messages. 
After some digging on Twitter — where her fans often discuss the hidden secrets behind her videos —  landed nowhere, one Arianator who goes by @grandeebuterax, offered to help us out. 
"The video is about publicity love versus true and real love," she explained in a direct message. "Ariana enjoys being with her 'other boyfriend' because she's happy and smiling in the scenes. In addition, she's also free to do anything. She isn't doing it for the camera or video. she isn't pressured." Of course, fans are assuming this is a hit at what might've been a fake relationship with Big Sean in comparison to her real love with current beau Ricky Alvarez. 
Something else fans are now asking? If Grande and Benjamin are dating. Despite their on- screen chemistry, his answer is a definitive no. 
Although he is joining the ranks of male models featured in pop artists' music videos, such as Sean O'Pry in Taylor Swift's "Blank Space" video, Christopher Mason in Selena Gomez's "Hands To Myself" video and Dudley O'Shaughnessy in Rihanna's "We Found Love" video, Benjamin has no plans to settle into just being a celebrity's love interest. 
"It's fun to collaborate with other artists," he said. "But I have a single out now and maybe one day me and Ariana will be doing a song together." 
His first thought about being casted in the video succintly sums up our reaction to the video as a whole: "Damnnn."