Sephora Just Announced Some Awesome News for Those With Naturally Curly Hair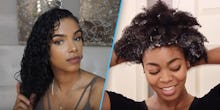 Mirroring society's antiquated beauty ideals, hair products have generally been marketed towards, or even created for, straight and sleek textures. In order to combat this, Sephora has launched a campaign entitled "It's A Curly Thing" to help women with all types of curly hair find their perfect products in a sea of ones that might not work for them. 
Customers are asked to choose between four hair types: wavy, curly, coily and tightly coiled. Their selection brings about curated cleansers, detanglers, conditioners and hair masks among other products. 
Just because you own a product, doesn't mean you know how to get the best use out of it. And for that, Sephora asked natural curl experts like SunKissAlba, Naptural85 and NaturalMe4C to film step-by-step videos using an assortment of the recommended products. 
Many young girls are still being sent home from school, kicked off their cheerleading team and/or being called to the principal office for "crime" of wearing their natural 'dos. But, it's not just contained to the classroom as a Google search of "unprofessional hairstyles for work" brings about a slew of women with natural hair.  
So this campaign is coming at a pivotal time in the natural hair conversation, one when models, celebrities and brands alike are taking these discussions to the mainstream. 
Read more: Here's What Women Think of Fashion's Sudden Embrace of Natural Hair
Last month, SheaMoisture launched the campaign #BreakTheWalls to bring awareness to the way the beauty industry has often made women of color feel secluded and segregated from white women. 
"[We need to] take steps to make sure we are including all people, and accentuating the beauty in all of us," SheaMoisture CEO Richelieu Dennis said in a phone interview at the time. 
It's these brands and influencers — along with Sephora — that are taking steps toward the inclusion of all women, regardless of whether they have "wide-set ripples" or "tight, springy coils."