11 Stellar Songs of Summer You'll Never Hear on the Radio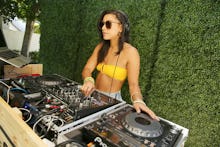 What does radio look for in a song? An earworm of a hook. A familiar beat. An instantly recognizable name.
These factors guarantee hits more reliably than music that's heartfelt or innovative, which is why we consistently see songs that sound so inescapably similar continue to cycle through the top of the charts. At no time year is this more clear than summertime, when all those heat-wave hits come out.
Read more: 9 Historic Songs of the Summer That Are Better Than Anything We'll Hear This Year
Come May the entire industry begins to chase after that elusive "Song of the Summer" title, at the expense of highlighting the kind of soulful, exploratory music that keep the art form healthy and vital. Those unique gems we find with unexpected collaborations and distinctive beats are what give summer memories power, not the canned singles that earn the "official" title, like the insufferable "Fancy" by Iggy Azalea in 2014, or the reactionary sexual politics of Robin Thicke's "Blurred Lines" in 2013.
Why should the radio tell people the songs that define their summers? What follows is a playlist of alternative summer jams that the radio isn't nearly brave enough to touch, tracks perfect a Saturday roller skate or a laidback smoke session.
1. "Dapper" — Domo Genesis feat. Anderson .Paak
When Odd Future "broke up" late in 2015, it seemed for a second fans might never hear from the group's second tier of rappers ever again. Domo Genesis proved that wrong with his March banger "Dapper," featuring hip-hop renaissance man Anderson .Paak. Paired with a fun, weed-filled roller-skating video, the whole package is an absolute joy — worthy of kicking off any summer's night pregame.
2. "I'm In Control" — AlunaGeorge feat. Popcaan
The Carribbean/EDM cross-genre single is a very trendy move for artists to make these days. Drake, Justin Bieber and Rihanna have all been trying it, some better than others. AlunaGeorge's "I'm in Control," the teaser single for their highly anticipated sophomore album I Remember, does it very right — relying on a slow build and solid contributions from Jamaican dancehall artist Popcaan.
3. "Girls @" — Joey Purp feat. Chance the Rapper
Joey Purp and Chance the Rapper's "Girls @" starts out like a very conventional club banger, talking about cruising for chicks in a big wheeled Benz. They quickly subvert all those tropes. "Where all the girls with the book in the club?" Chance asks. "With the readin' glasses on, gettin' shook in the club/ Readin' Ta-Nehisi Coates, hummin' 'SpottieOttieDope.'" The instrumental offers the two rappers plenty of space to pack in the puns.
4. "Smoke & Retribution" — Flume feat. Vince Staples & Ku?ka 
Vince Staples usually springs for far more bleak, minimalist beats, but he sounds surprisingly comfortable over Flume's bouncy EDM. The song sports a very atypical structure, but blends its radically divergent ideas surprisingly well.
5. "Glowed Up" — Kaytranada feat. Anderson .Paak
Kaytranada's debut full-length album 99.9% dropped on a very big day for music this May — alongside the release of James Blake's "The Colour in Anything," Anohni's Hopelessness and Skepta's Konnichiwa. But 99.9% still managed to make an impact, earning impressive reviews across the web. Its mellow fourth single "Glowed Up," highlighting Anderson .Paak's sultry croon, remains one of its standouts.
6. "I Am a Nightmare" — Brand New
Before last year's "Mene," pop-punk veterans Brand New hadn't released a new single in six years. With their "I Am a Nightmare" it seems they may be getting back into a more regular release schedule. They're also regaining control of their sound. The track is bright, driving, confident, brimming with their familiar, roaring angst. The emo revival is real, and Brand New is at its vanguard.
7. "Heavn" — Jamila Woods
Jamila Woods has offered some inspired hooks to a handful of recent game-changing hip-hop tracks, contributing to Chance the Rapper and Donnie Trumpet's "Sunday Candy," "Blessings" and Macklemore's "White Privilege II." She's now beginning to roll out her own solo music. "Heavn" proves her whisp-o-wisp voice can still drive a soul track.
8. "Miles Apart" — Liss
The world will need a new Prince soon — someone to keep that mysterious, libido-driven, campy R&B alive. Liss may be that band. The Danis four piece's debut EP First, which includes the effortlessly smooth "Miles Apart," offers a very refreshing new take on today's hyper trendy synth pop.
9. "Spectrum" — GoldLink
Rapper GoldLink builds his most recent track "Spectrum" out of a classic Missy Elliott sample, but twists it in a way we rarely hear the icon's voice used. GoldLink's double-time flow adds a driving feel to the trance-heavy instrumental.
10. "Girlfriend" — NAO
East London singer NAO has been bubbling under the radar for a few years now, preparing for her debut full-length For All We Know, coming this July. Her latest track, "Girlfriend," brings some invigorating updates to the classic R&B unrequited love jam, boasting brilliant use of timing, space and some clever skat vocals and harmonies.
11. "No Matter Where We Go" — Whitney
"I wanna drive around/ With you with the windows down," Max Kakacek and Julien Ehrlich of Whitney sing on "No Matter Where We Go." It's essentially providing an instruction manual for how best to listen to the song, a jangly road trip jam reminiscent of the Grateful Dead's "Casey Jones" and the Allman Brothers Band's "Ramblin' Man."
Listen to this full playlist below, and follow Mic on Spotify for more new music.