100 Years of Nail Art Shows the Incredible Evolution of the Manicure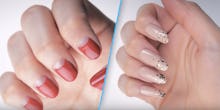 An incredible video from Mode — which has since received over 800,000 views — traces the history of nail trends throughout the last century from a polish-free look to Kylie Jenner-esque coffin claws.  
From black beauty to facial hair, "100 year" time-lapse videos from websites like Mode and Cut have been infiltrating the internet over the past year allowing history buffs to see how fashion reflected on society at the time and vice versa — the "100 years of Nails," is no different. 
To begin: A simple cut, buff and file was popular in 1916. 
Clear nail polish was added in 1926.
1936 brought rounded nails with the first spout of color. 
The world was introduced to fake nails with a bright hue in 1946. 
Light red was swapped for a darker berry shade in 1956. 
1966 was the year we first caught eye of Romy and Michele-like pinks. 
The '70s were chock-full of hippies, and with that came disco ball glitter nails. 
In order to match the electric colors of '80s leg warmers and scrunchies, hot pink square nails were decorated with a black and silver tip. (Can't forget the gem!)
Fake nails were removed in the '90s for a more natural, but edgy look. 
Remember when all of your friends had French manicures in 2006? (And how easily it'd chip.)
Pointed tips were popularized by pop culture in 2016. 
We can only imagine what 2026 will bring, but it'll likely be a color changing or tech-filled trend. (Or at the very least, maybe there will be robots to paint intricate details onto our nails.)  
Read more: Watch 100 Years of Tattoos, In Just 3 Gorgeous Minutes, All on One Person