This Incredible Makeup Artist Is Transforming Her Face Into Famous Works of Art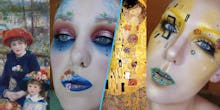 Why schlep to a museum to look at famous artwork, when you can just look in the mirror? 
Lexie Lazear, who has been a makeup artist for nearly 20 years, has been using beauty products to re-create iconic paintings on her face. Why? She felt inspired after looking at an image of Vincent Van Gogh's "Starry Night Over the Rhone."
"I was looking for a color combination for a look and found this slightly filtered version of 'Starry Night Over the Rhone,' and thought the light reflections in the water almost looked like glowing tears," she wrote in an email. 
Lazear said each painting can take between 90 minutes and three hours, as she doesn't plan out the exact look ahead of time. 
"I just let it evolve as I work," she said. "I generally figure out the brows or the lips first and work up or down from there. Brows and lips are such a strong part of the structure of the face that once I have a solid idea for that plane of my face, it's easier to find my face in the painting."
Read more: This Makeup Artist Transforms Her Chin Into Crying Kim Kardashian West
After receiving positive responses from friends and family, she continued with the idea and launch an artwork series. 
She has since painted Salvador Dali's "The Melting Watch," Pierre-Auguste Renoir's "Two Sisters (On the Terrace)," Paul Cézanne's "Mont Sainte-Victoire with Large Pine," Pablo Picasso's "The Weeping Woman," Gustav Klimt's "The Kiss" and Edgar Degas' "Two Dancers Entering the Stage."
When Lazear isn't making up her face to reflect well-known works, she's painting on some sick face art. 
"I had been doing looks of fairly crazy makeup for Instagram to challenge myself and be creative," she said. 
People seem to be taken by her work with comments like "Renoir should be so lucky to have his work inspire something as amazing as this" and "Your work is so amazing. You look like a painting."
Last month, the internet was graced with another talented makeup artist, Laura Jenkinson, who creates hilarious pop culture inspired chin — yes chin — art. 
Thankfully there are artists like Lazear and Jenkinson to admire as you simply attempt and fail to match your liquid foundation to your skin tone — something that is way more difficult than it looks.